Sub Menu Toggle
Shania Cristine Garza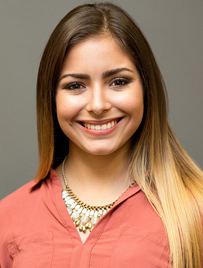 Name: Shania Cristine Garza
Age: 20
Major: Nursing
Hometown: Alamo
Why UTRGV?
Not only does The University of Texas Rio Grande Valley provide me with a high quality education and a profound nursing program, it also allows me to stay close to home which is very important to me. My family has always been very supportive and it is nice to have them by my side as I begin my journey through the nursing program.
What made you decide on your current major?
I look up to my beautiful mother who graduated from UTPA with a Bachelor of Science in Nursing and is now in the MSN program at UTRGV. Throughout her years as a nurse I have watched her loving ways touch the hearts of every person that has the pleasure of meeting her. I want to follow in her footsteps, show my patients compassion and make them feel as comfortable as they possibly can throughout any given situation. Although I am simply one person, as stated by Mother Theresa, "I alone can't change the world, but I can cast a stone across the waters to create many ripples."
What are your plans after graduation?
After obtaining my BSN from The University of Texas Rio Grande Valley I plan to immediately continue my education and become a nurse practitioner.
What are you involved in on and off campus?
I am currently employed with the Office of Recruitment and Scholarships at UTRGV. I have been working as an orientation leader/tour guide for about two years and I absolutely love it. This job has provided me with many wonderful opportunities. I enjoy assisting freshmen and transfer students with their transition and showing visitors how amazing our university truly is through campus tours and presentations. Off campus, I am blessed enough to be a vocalist in the praise and worship group at my church. As our worship pastor says, "Jesus is our worship leader and we are vessels that have been blessed with talent to be able to serve."
What is your biggest accomplishment to date?
Getting accepted into the nursing program is definitely my biggest accomplishment so far. Ever since I was a child, I dreamed of pursuing a career as a nurse and now I am one step closer to that goal.
What advice do you have for future students?
"Surround yourself with the dreamers and the doers, the believers and the thinkers, but most of all, surround yourself with those who see greatness within you, even when you don't see it in yourself." (Edward Lee, author)