Sub Menu Toggle
Judith Mireles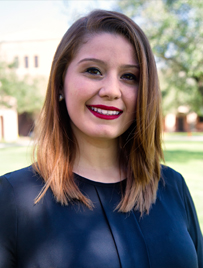 Name: Judith Itzayana Mireles
Age: 22
Major: Communication
Hometown: Brownsville
Why UTRGV?
UTRGV offered an experience no other school could match. I have had the privilege of receiving a great education right at home. You can't have that one-on-one experience with your professors at many other large universities. I am proud to say that all my professors have taken the time to not only teach, but also mentor and even encourage me to continue in my education.
What made you decide on your current major?
Going into communication I thought what everyone else thinks – become a news anchor. It turned out to be so much more than that for me and ultimately helped me realize what I wanted to be in my life, personally and professionally. Developing leadership skills has been a great part of why I am a proud communication major.
What are your plans after graduation?
After graduation, I plan on taking an internship in Washington, D.C. for the summer and returning for a graduate degree in communication. Ultimately, I plan on working in a government setting, focusing on public relations and crisis management. 
What are you involved in on and off campus?
Currently, I am the lead student employee for the Student Involvement Office, a scholar for the Engaged Scholarship and Learning Office, vice president for the Communication Council and a member of the National Society of Leadership and Success. Off campus, I serve as a both a youth and worship leader at my church. I tend to be a little busy, but I love every second of it.
What is your biggest accomplishment to date?
Confidence! Having to be a strong and independent individual has taught me so much about myself. Becoming a confident woman – personally, professionally and academically – has opened many doors for my future. 
What advice do you have for future students?
Start off on the right foot. Yes, having a job is nice and hanging out with friends is cool but remember why you are in school. Many students lose sight of why they started and eventually find themselves not wanting to be in school at all. Enjoy it all but take it one day at a time and never limit yourself. It'll pay off, trust me.