Sub Menu Toggle
Jennifer Cerda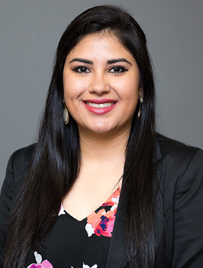 Name: Jennifer Cerda
Age: 25
Major: Communication Studies
Hometown: Edinburg 
Why UTRGV?
I chose to attend UTRGV, because I wanted to be able to make a difference in my hometown. UTRGV provided an opportunity to obtain a higher education while being able to stay close to home so I could help my family. 
What made you decide on your current major?
I got involved in a Greek organization called Alpha Sigma Tau on campus as an undergrad. This really made me come out of my shell and become excited about participating on campus. Being the recruitment officer for my organization in my undergraduate years gave me a chance to interact with a lot of students. I love mentoring students who are trying to find their purpose in college. I found out from a former supervisor that there was a major in communication studies. Then I thought what better way to help students than through using my communication skills to guide them in following their dreams and making them come true.   
What are your plans after graduation?
After college, I plan to apply for jobs in different universities because I enjoy interacting with students. I would love to be involved in the journey of a student's development during college.  After gaining more experience, I want to pursue a Ph.D. in public administration. I would like to be a vice president for Student Life and dean of students at a university someday and encourage students to be engaged on campus like I have been at UTRGV. 
What are you involved in on and off campus?
As a graduate student, I've had the opportunity to volunteer as an adviser for Alpha Sigma Tau Sorority at UTRGV. This organization has helped me make lifelong friendships. Being in a sorority has shaped me into a confident, involved student leader. It has been a great motivator to stay on top of my classes, and it gave me another purpose to stay in school to pursue my master's degree. I currently work for the UTRGV Dean of Students as a graduate program coordinator for the Student Food Pantry where I assist students in need at UTRGV. Off campus, I am a mentor for VAMOS (Valley Alliance of Mentors for Opportunities and Scholarships), which focuses on helping high school students achieve their dreams of a college education. 
What is your biggest accomplishment to date?
My biggest accomplishment was coordinating and developing the Student Food Pantry at the Brownsville Campus. The pantry helps enrolled students receive free food to ensure that they don't go hungry or sacrifice their health while they are trying to pursue a higher education. I'm glad I can leave something behind that will make an impact at UTRGV.
What advice do you have for future students?
Don't look at your graduation date as a ticking time clock or what defines who you are. Get involved on campus by joining an organization and make memories that will last indefinitely.