Sub Menu Toggle
Daniel Ruiz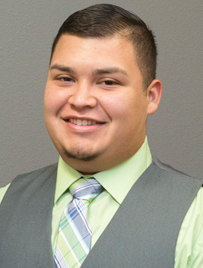 Name Daniel Ruiz
Age: 20
Major: Biology
Hometown: San Benito 
Why UTRGV?
The main reasons I chose to attend UTRGV were the cost of attendance and its location, however, as I began my first semester I realized that UTRGV offers many opportunities for growth and development. With all the degree plans, programs, and organizations that are offered I was able to start growing as an individual. The number of faculty and staff that I have had the opportunity to meet has helped me tremendously with networking. Now I cannot imagine going anywhere else. I found a home here at UTRGV and I am excited to see what my next two years have in store for me. 
What made you decide on your current major?
I chose to study biology because I have always loved science. Biology, in particular, because it was the science that dealt with life which to this day still amazes me. When I started studying biology here at the university I began to notice the life all around me from the smallest microorganisms to the tallest trees on campus. 
What are your plans after graduation?
I have set a goal for myself to never stop learning. After graduation, if all goes well, I will be moving on to medical school. I would love to be able to attend the medical school here at UTRGV so that I could continue being involved on campus. 
What are you involved in on and off campus?
I am a member of Alpha Lambda Delta and the National Society of Collegiate Scholars. I also compete and do community service with the Health Occupations Students of America. The two organizations that have really helped me grow most as an individual and as a leader are the Campus Program Board, where I chair the Campus Life Committee, and Phi Iota Alpha Fraternity, Inc., where I am in charge of public relations. These two organizations are where I have found a second home and family. 
What is your biggest accomplishment to date?
My biggest accomplishment, as of now, would have to be becoming the committee chair for Campus Life with the Campus Program Board. In this position, I will hopefully be able to give students that amazing college experience we all want.
What advice do you have for future students?
Get involved, join organizations, meet new people and take leaps of faith. A lot of times we become so comfortable with what we know that we tend to stop ourselves from growing. We are all stronger than we realize and if we push our limits we realize the greatness that is within us all.