Sub Menu Toggle
Eduardo Sepulveda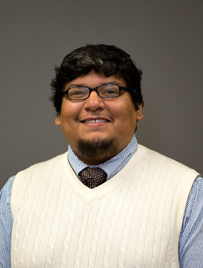 Name: Eduardo Sepulveda Jr.
Age: 21
Major: Pre-Nursing
Hometown: Weslaco
Why UTRGV?
I chose to come to UTRGV because it provided me with so many different opportunities, such as scholarships, grants, and participation in research.  I am very grateful to have those opportunities because they allowed me to become a strong leader, both academically and professionally.
What made you decide on your current major?
Throughout my high school and college education, I participated in a variety of community service projects that allowed me to interact with different people in my community.  Helping and serving them gave me an inexplicable joy, and I knew then that I wanted to help people, which, in turn, led me to pursue a degree in nursing.
What are your plans after graduation?
After graduation, I plan to work in a hospital setting to not only serve patients but to gain field experience to grow as a professional. Eventually, I plan to obtain a master's degree to become a family nurse practitioner.  
What are you involved in on and off campus?
I currently work at UTRGV with the Office of Recruitment and Scholarship as a senior orientation leader.  I am also a part of the Alpha Lambda Delta National Honor Society for first-year students, and the National Society of Collegiate Scholars.  I have also participated in research related to Parkinson's disease under the supervision of university faculty.  Outside of campus, I help at my church, MGM Christian Center, by assisting with the sound and media team during church services and events.
What is your biggest accomplishment to date?
One of my biggest accomplishments is making the Dean's List several times throughout my academic career.  It is an honor to be able to make it on the Dean's List because it shows how dedicated I am to my academics.  Another accomplishment I am proud of is being a part of the Office of Recruitment and Scholarship as a senior orientation leader.  Working with this office has allowed me to become a great leader and taught me skills that I can use throughout my career. 
What advice do you have for future students?
Some advice that we give out during orientation is "don't be a parking lot student," meaning don't just park, go to class, and leave to go home.  As a student you need to step out of your comfort zone and talk to your professors, ask for help, join different organizations, and make new friends.  It would be a difficult journey doing things on your own, and I leave you with this quote that I strongly believe in: 
"If you want to go fast, go alone.  If you want to go far, go together." – African Proverb