Sub Menu Toggle
Mark Lopez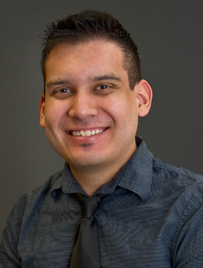 Name: Mark Lopez
Age: 22
Major: Communications (Broadcast)
Hometown: Edinburg
Why UTRGV?
I grew up watching the campus grow from my backyard. It always provided a sense of hope for me that I could have a brighter future. I love how diverse the campus is and how everyone here knows the value of hard work and passion since a lot of us have grown up here in the Valley. I don't believe you can find that sense of care and passion anywhere else.
What made you decide on your current major?
I have always loved writing and the idea of working in media.  When I first got to college I met Fred Mann, lecturer and student media adviser, and he showed me how expressive you could be in broadcast and how you could be creative and revolutionize it. That really inspired me.
What are your plans after graduation?
I would love to get a master's degree in creative writing or media relations. I would also love to work in media relations with a university such as UTRGV or elsewhere. My goal is to work in a place where I'm serving a purpose to not just the company I work for but also to the community where I live.
What are you involved in on and off campus?
I am currently the radio news director for UTRGV Radio. I am also a college leader at my local youth group at Abundant Grace Community Church in Edinburg.
What is your biggest accomplishment to date?
I remember being really proud of myself when I found out the campus magazine – the Panorama – I wrote for earned first place in Texas at a collegiate competition. My mom must have gotten 20 copies of that magazine. My family members are my biggest supporters and to do something that made them so proud of me was priceless.
What advice do you have for future students?
I think as long as you have passion in what you do, you're going to succeed. Always try to be the hardest working person in the room and be selfless and strive to not just better yourself, but better everyone around you. As long as you have passion and you work hard, any challenges that come your way are going to be easy to overcome. I encourage students to join organizations on campus to gain meaningful experience and to be a part of something bigger than yourself.