Sub Menu Toggle
Karla E. Resendez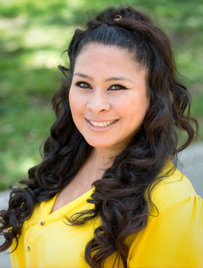 Name: Karla E. Resendez
Age: 34
Major: Psychology 
Hometown: Brownsville
Why UTRGV?
I needed an institution with an outstanding structure of education that could open the door to a great future for my kids and me. I believe that The University of Texas Rio Grande Valley has the means to provide a great future close to my home and Mexican heritage.
What made you decide on your current major?
I have always been a curious person; I have a fascination with understanding human behavior and mannerism. Plus, psychology is a fascinating area of study that provides excellent job prospects in a wide range of careers.
What are your plans after graduation?
I would love to obtain a job at Lincoln Park Alternative High School in Brownsville. I got pregnant at the age of 16, and after hard work and dedication, I will finally be graduating this spring. I would love to help inspire girls and dispel the stigma that once you're 16 and pregnant you can't achieve your goals and become a more successful person. I also plan to pursue a Master of Arts in Clinical Psychology and become a Licensed Professional Counselor.
What are you involved in on and off campus?
Currently, I am employed at UTRGV's Office of Recruitment and Scholarships as an orientation leader. Working at the Office of Recruitment and Scholarships gave me the opportunity to be part of a unique community of orientation staff creating a bond that I will carry with me throughout my life. I am also employed at United Way of Southern Cameron County where I get to mentor, cultivate and promote postsecondary education to children from my community.
What is your biggest accomplishment to date?
My biggest accomplishment was obtaining my GED because it was my first barrier I had to overcome to get where I am today. It was the culmination of so many small steps toward reaching my bigger goal – completing my bachelor's degree. I firmly believe education is the key that can open the door to many opportunities for me and my children.  
What advice do you have for future students?
Like my daddy would always say, "Si fuera fácil todo mundo lo haría," which means "if it were easy, everyone would do it." It takes a lot of dedication, sacrifices and, for me, many midnight hours of studying. However, you learn to recognize your potential to continue doing great things. It is never too late to pursue your dreams.