Sub Menu Toggle
Lucero Rodriguez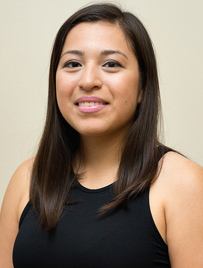 Name: Lucero Rodriguez
Age: 21
Major: Applied Mathematics and Theatre
Hometown: Reynosa, Tamaulipas, Mexico 
Why UTRGV?
I knew UTRGV would offer me the quality of education, attention, and opportunities that I would not find anywhere else. Applying to a foreign college meant I was breaking my boundaries and challenging myself. Here I have found a place that allows me to freely create, learn, and build myself up. The diversity in students allows everyone to connect, expand their culture, and feel at home while being away from home. 
What made you decide on your current major?
Since elementary school, I have always been good at math. My math teacher in middle school, Myriam Lopez Anaya, was the person who helped me find the excitement and passion to go beyond the classroom knowledge. She taught me how to be a self-learner by challenging me daily and pushing me beyond what I thought I was capable of. As I grew older, I've noticed that math allows me to challenge my analytical thinking, logic, and reasoning. I found my love for the arts and storytelling in my late teens. The idea of transporting a human mind into a whole new world, with a book or a film, enchanted me. It allowed my mind to run free and express myself in ways I didn't know. Being a theatre major challenges my creativity, my imagination, and keeps me open-minded. 
What are your plans after graduation?
I would like to go to graduate school in the field of biomathematics. Doing research on our biological environment as well as in the medical field has always caught my attention. Applying my knowledge to help the worldwide population is what I would like to do. I would also like to get more involved with my community by joining a local theater company. I've seen how theater can change lives, especially children's, and I would like to be the person who brings that to them. 
What are you involved in on and off campus?
I work at the Edinburg Learning Center as an embedded math tutor. I help my students not only with their study sessions, but I try to engage with them by mentoring and providing support. I am also a member of Latino Theatre Initiatives (LTI). This student organization is dedicated to bringing more Latino theater to the Valley, and engages the unique Mexican-American culture found here. As part of LTI, we've collaborated with a Colombian writer, Mario Lamo, toured our productions throughout the Valley, and performed in theatre festivals. 
What is your biggest accomplishment to date?
Family, friends, and teachers have always recognized me as a good student. I always put forward the best of me throughout my basic education, but it was a big challenge to move to a foreign country and enroll in college. I was a girl who had never been away from home and I had no confidence speaking or writing English. I was able to meet every challenge and was able to get A's in every course I took during my first year of college. Now, no matter where I go and how afraid I am, I know I will always find a way to adapt and succeed in everything I put my mind into. 
What advice do you have for future students?
No dream or passion is too small for you to chase.