Sub Menu Toggle
Jacqueline Maldonado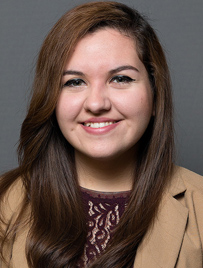 Name: Jacqueline Maldonado
Age: 22
Major:  Graphic Design
Hometown: Brownsville 
Why UTRGV?
In 2013, I was offered a scholarship to UT Brownsville/Texas Southmost College. Because of this, I decided to stay. Attending UTRGV kept me close to home, but it also brought me a variety of opportunities reflecting my future career. I found jobs on campus reflecting exactly what I want to do, I've met amazing people, and the list goes on. 
What made you decide on your current major?
I spent seventh grade learning about Photoshop. It started as a hobby, but I found myself watching hour-long video tutorials on how to change eye color and manipulate text. I became obsessed with creating posters and editing photos, enough to join Yearbook at Hanna High School.  That yearbook class changed my life; it was my home away from home. I was planning on becoming a veterinarian, but my passion for graphic design was too large to give up. I knew it was something I would enjoy doing for the rest of my life. 
What are your plans after graduation?
I want to spend all of my time creating. I hope to one day have my work on billboards across the country, on album covers, or movie posters. I just want to inspire someone to create. I didn't know anyone in graphic design growing up, but the fact that I saw it everywhere leads me to believe that one day I will inspire someone to create as well. 
What are you involved in on and off campus?
I worked as the UT Brownsville/Texas Southmost College Student Engagement's graphic designer for a year. It was my first job and I felt so fortunate. Seeing my posters around campus and working with an amazing office really opened my eyes as to what my life could be. After moving to Edinburg in 2015, I began working as the Student Union's graphic designer. I've been there ever since and the experience has been incredible – it has encouraged and pushed me to be the best I can be. 
What is your biggest accomplishment to date?
One of my biggest accomplishments was working on the UTRGV Ceremonial Mace. My late professor of art, Carlos Gómez, brought me on as one of the students to help design it, and the experience was unforgettable. I also feel very honored to have won two ADDYs (American Advertising Awards) for my poster designs. My professor Ping Xu, lecturer of graphic design, helped me realize my potential. Winning these awards really changed the way I viewed myself as a designer.
What advice do you have for future students?
Talk to people. I spent the first year of my college career hidden in my dorm, refusing to socialize. After finally deciding to branch out, I got offered a job, and my entire college life changed from there. I've met so many people who have changed my life for the better and it's all because I decided to put myself out there and make the experience worth it.