Sub Menu Toggle
Roshni Manwani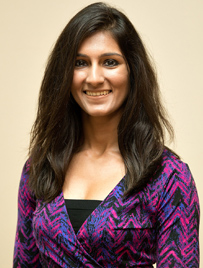 Name Roshni Manwani 
Age: 25
Major: Accounting
Hometown: Lagos, Nigeria
Why UTRGV?
Apart from having an excellent program in accounting, the tuition rates of UTRGV for international students are affordable. The university's scholarship department further provides competitive scholarships that aid international students like me to pay in-state tuition. In addition to the financial assistance the university provides, the proximity to the Mexican border provides a cultural diversity unique to the U.S. Not only am I exposing myself to the American way of life but I am also having an increasingly global experience. 
What made you decide on your current major?
After graduating with my first degree in fashion and working in a creative industry, I realized I wanted to become an entrepreneur. Creativity was not enough to compete in the global market that we live in. Being financially literate gives an individual the power to make decisions that are not only economical but also effective in running a successful business that I plan on establishing. In addition, a degree in accounting opens different avenues in public and private accounting
 What are your plans after graduation?
I would definitely like to get my master's in accounting and later pursue my CPA (Certified Public Account) license. I look forward to interning at one of the "Big Four" accounting firms and gain some exposure to the public accounting field. In the long run I would like to become a partner in an accounting firm at the advising division to perform financial analysis. 
What are you involved in on and off campus?
I am currently the vice president of marketing for the Association of Management Accountant and Financial Professionals, the UTRGV student chapter of the Institute of Management Accountants. I serve as a campus ambassador for Becker, an organization that provides study materials for students who plan to take the CPA exam.  I also work as a representative at the University Call Center and am actively involved as a buddy leader with the Office of International Admissions and Student Services. I have also volunteered as an income tax preparer for the 2016 Volunteer Tax Assistance Program and have presented my class research at FESTIBA 2016 on the major sources of influence in the choices students make in their college academics. 
What is your biggest accomplishment to date?
I have been on the President's List consecutively for three terms and have had the opportunity to receive the competitive scholarship that allows me to pay in-state tuition. Coming from a middle class family, this is a huge accomplishment for me as it has allowed me and my family to pay for my education with more ease. 
What advice do you have for future students?
Work hard, persevere and there is nothing in life you cannot achieve. To be successful, you need to do just three simple things: Do the right thing; be at the right place and time (do not miss the opportunity to be at an event that will broaden your intellect); and network with the right people.