Sub Menu Toggle
Andrea Michelle Martinez Guerra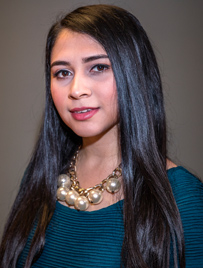 Name: Andrea Michelle Martinez Guerra
Age: 23
Major: Communication  
Hometown: Matamoros, Tamaulipas, Mexico 
Why UTRGV?
Since I was young I always dreamed that one day I would be able to study at an American institution. When I graduated from high school I had various scholarship offers from Mexican universities, but I felt that my pathway was different from what my family expected. I decided to enroll at UTB/TSC back in the day because it was my dream to challenge myself with something new. UTRGV has given me a completely unique experience in which I have learned a lot and developed as a person.
What made you decide on your current major?
During 9th grade, I had the chance to work as the star for a series of commercials that aired in the Mexican national television station TV Azteca. The storyline was to create awareness and prevent domestic violence.  While I was on the set I would observe the different aspects of the art of video production. I searched for different careers that could help me satisfy that thirst, and once I heard about the opportunities the communications program offered I fell in love with it.
What are your plans after graduation?
As a Mexican citizen finding a job might be difficult in the United States, but I believe I can conquer that challenge. I would like to earn my master's degree in advertising. After that, I plan on getting a job to gain experience in the advertising field and eventually open an advertising firm. Ultimately, my goal is to give back to my family for their guidance and support.
What are you involved in on and off campus?
Currently, I am employed as a resident assistant at Casa Bella and as a mentor at Student Involvement. Both jobs offer me the opportunity to work with students daily and helping them gives me a tremendous satisfaction. I believe if everyone gives a little help to their neighbor we can build a better future.
What is your biggest accomplishment to date?
Besides being on the Dean's List since the beginning of my college career, during my last semester of high school I was granted the privilege of being the producer, editor, and anchor for a television show at a local TV station.  Words cannot describe the joy I experienced while working there.
What advice do you have for future students?
Everyone has different goals, but we are connected by the fact that every objective requires effort in order to accomplish it. For me, education is very important and opens opportunities for everyone. Never give up even when times get dark; there is nothing you can't achieve if you believe in yourself.