Sub Menu Toggle
Vilma Stephanie Flores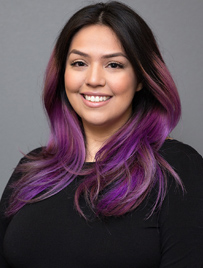 Name: Vilma Stephanie Flores
Age: 23                  
Major: Sociology and Studio Art
Hometown: Weslaco 
Why UTRGV?
My decision to attend UTRGV was formed upon my great appreciation of the Rio Grande Valley. I feel like working to set an example as a successful member of our community is really important, not only to represent UTRGV, but our region altogether. 
What made you decide on your current major?
I started off taking basic courses and then ended up taking an introduction to sociology course. I was immediately intrigued and declared sociology with a minor in psychology. As I continued with my sociology courses, I started taking elective courses in jewelry/metalworking each semester up until my last semester before my graduation. That's when I decided to double major and added studio art to my major with a concentration in jewelry and metalworking. Growing up I was always inspired by my father's aptitude for art, so I knew it would be a wonderful decision, especially with my parent's encouragement. 
What are your plans after graduation?
I definitely want to pursue a career in jewelry and 3D design, and UTRGV has provided me with a great amount of experience in that field of study. 
What are you involved in on and off campus?
On campus, I have worked as a student designer for several university projects. Off campus, I work at my family's convenience store alongside my parents. During my off-time I like to create 3D model pieces which I 3D print. I also spend time working on commissioned jewelry, and overall work on anything that can enhance my practice. 
What is your biggest accomplishment to date?
I believe my greatest accomplishments have definitely been working with the UTRGV committees on the ceremonial mace, the presidential medallion and the class ring. I was also granted the opportunity over summer 2016 to 3D design and print the head for our university mace, which was a really exciting project to work on since I had participated in the design process in early 2015. I was working on my own this time around which was challenging but a great way to exercise my skills. These are opportunities that I will forever cherish and take pride in. 
What advice do you have for future students?
I want future students to know that many opportunities will arise throughout their college careers.  There will be plenty of times in which you will feel intimidated or incapable, but always take the step forward and give it your all. Take advantage of being surrounded by our hardworking and encouraging professors, let them guide you. Our university has a lot to offer its students and I want future high school graduates to know that the ability to succeed is everywhere; it is up to us as students to work hard and achieve great things.