Sub Menu Toggle
Elizabeth Torres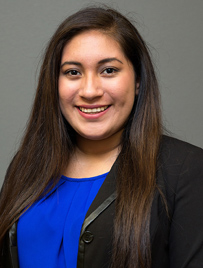 Name: Elizabeth Torres
Age: 21
Major:  Education-Counseling and Guidance
Hometown: Pharr 
Why UTRGV?
From day one I wanted to help my community and I knew UTRGV would prepare me well. UTRGV offers great programs that focus on the needs of our community, something that no other university can provide. I will have the opportunity to complete my practice hours in the community where I grew up and one day hope to work for. I feel extremely proud and honored to attend UTRGV. 
What made you decide on your current major?
Growing up in a close-knit family, I often visited my grandparents who lived in a neighborhood with a high population of children.  Even at a young age I noticed these children were different due to the poverty and neglect they dealt with on a daily basis. Being exposed to their unfortunate economic or domestic circumstances impacted my life. I realized how lucky I was to have a great family who supported me and encouraged my life goals, but it also sparked my life's mission to be a positive influence to children. Achieving that life goal led me to earn my bachelor's degree from UTRGV in May with majors in psychology and criminal justice and to now pursue my master's degree.   
What are your plans after graduation?
I plan on taking some time off to travel, something that I love to do. While traveling I hope to meet people who will help me further my knowledge in the field of counseling. After traveling for a while, I plan on looking for a job that will allow me to help children in the Rio Grande Valley, particularly those with a history of neglect, physical and mental abuse.
What are you involved in on and off campus?
I work at UTRGV Continuing Education office where we focus on the importance of education by providing courses to those wanting to further their education. I am also part of Kappa Delta Chi Sorority Inc. where I served as a service officer for a year. I focused on service opportunities that would help the community like Volunteer Income Tax Assistance, where we prepared free tax returns for low-income families. Off campus I volunteered in a detention center where I mentored and monitored juvenile offenders. In addition, I also completed several internships that better prepared me to help my community. 
What is your biggest accomplishment to date?
Through a Congressional Hispanic Caucus Institute internship, I had the honor to travel to Washington, D.C., and work for U.S. Congressman Filemon Vela Jr. I consider that experience my biggest accomplishment. Being in our nation's capital and having the opportunity to meet and learn from the lawmakers made me understand how important the Latino community is.
What advice do you have for future students?
Never give up on your dreams and focus on what is best for you and what you want in life. There is nothing better than doing what you love. Focus on your happiness but also on your education and grades; however, never forget about your community.