Sub Menu Toggle
Ana Karen Castillo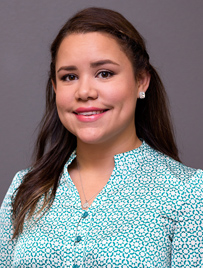 Name: Ana Karen Castillo
Age: 26
Major: Counseling and Guidance (LPC track)
Hometown: Guadalajara, Jalisco, Mexico 
Why UTRGV?
UTRGV has become a university unlike any other to me; full of unique resources, great professors, innovation, and opportunity. The opportunities to succeed and enhance our daily life through education and positive change are endless here. 
What made you decide on your current major?
I knew the path I wanted to walk from early on. I enjoyed learning about how our brain works. I also wanted to make a difference in people's lives. After graduating from Weslaco High School with honors, I received my cum laude bachelor's degree in psychology at Texas A&M International University. I then made the move back home to take the next step toward becoming a Licensed Professional Counselor. UTRGV offered quality and affordability in the master's degree program in counseling and guidance which I yearned for. 
What are your plans after graduation?
Having acquired experience in the field through internship and formal education, I plan to give back to our community and serve at a state agency or private practice in the near future. 
What are you involved in on and off campus?
My time on campus is divided into being a student, participating as an active member of the Phi Kappa Phi Honor Society, and working as a student assistant at the UTRGV Student Services Center. I also serve as a student counselor at the UTRGV Counseling and Training Clinic, which offers a multitude of counseling services free of charge for members of our community that are 6 years of age and older. Off campus I strive for balance, spending time at my church, enjoying the company of those I love, and being involved in athletics. 
What is your biggest accomplishment to date?
The culmination of my master's degree this fall will be one of the most memorable and meaningful accomplishments in my life to date. This upcoming graduation would not have been possible without God, my outstanding family, and each of the professors who have guided me through this challenging educational path to my chosen profession.  
What advice do you have for future students?
Begin with the end in mind!