Sub Menu Toggle
Angela Sarmiento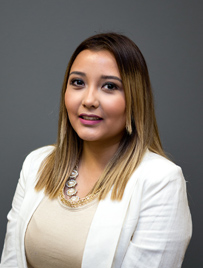 Name: Angela Sarmiento
Age: 25
Major: Communication
Hometown: Edinburg 
Why UTRGV?
I felt it was important to stay close to home since I wasn't quite ready to leave after graduating from high school. Most of my family and friends live in the Rio Grande Valley, and I've always been very close to them. UTRGV has always felt like home. The culture of this university is caring and I consider many of my peers and instructors to be like family.
What made you decide on your current major?
I love to talk.  I found out from a former instructor that there was a major in communication studies, and that sealed the deal for me.  The thought of being able to speak in front of people scares the life out of some people, but not me! I love speaking in front of crowds.  Communication studies is not only being able to speak, write, and listen effectively but also has a psychological component.  We learn to analyze communication as it's happening. 
What are your plans after graduation?
I plan to find a job I am passionate about. As a student, I've been able to study abroad and learn about many different cultures.  I have already visited 20 countries and I plan to travel to at least one country in every continent by the time I'm 30.  I also want to continue volunteering here in the U.S. and abroad.  After gaining more experience, I want to pursue a Ph.D. in communication.  I would like to teach at a university someday and inspire students much like my professors have inspired me.
What are you involved in on and off campus?
As a student, I've had the opportunity to become involved with many great organizations. As an undergraduate student, I was part of the Communication Studies Club and was a mentor for the Mother Daughter Program. I've had the opportunity to study abroad and to volunteer with great organizations such as L.U.P.E. (La Union del Pueblo Entero). I currently work for Student Involvement as a graduate assistant for Parent & Family Involvement where I help promote programs that aim to educate, develop, and grow student and family involvement on campus.  Off campus, I am a mentor for the College 1st Program, which focuses on increasing the number of students graduating from high school ready to enroll and complete a postsecondary education.
What is your biggest accomplishment to date? 
Pursuing a master's degree has been the biggest accomplishment to date. I wanted to continue learning and challenging myself.  The knowledge I've acquired through my education and experiences traveling abroad has made me a more confident person, and I'm very proud of that.
What advice do you have for future students?
I would tell future students about the importance of time management and being resilient.  Being able to cope with and overcome different challenges is crucial in achieving success.  Another piece of advice is to study abroad.  The experience is life changing, and UTRGV offers you that opportunity.