Sub Menu Toggle
Laura Van Tilburg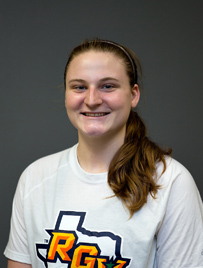 Name: Laura Van Tilburg
Age: 20
Major:  Kinesiology
Hometown: Weslaco
Why UTRGV?
UTRGV is close to home so I have the ability to visit my family when I please. Being a student-athlete, it is great to always see my family and best friends at every home game. UTRGV gives me the ability to do what I love – playing basketball, the sport that I hold dear to my heart, while getting a top-notch education.
What made you decide on your current major?
I am an avid sports fanatic, both as a spectator and a participant. I chose kinesiology with an emphasis in athletic training to become a physical therapist specifically for athletes. This career will give me a chance to help people and make a difference in their lives, just like what my physical therapist did for me when I incurred a serious injury to my knee while in high school.
What are your plans after graduation?
After graduation I plan on getting my master's here at UTRGV and begin work on research projects. Later, I plan to pursue my doctorate degree in physical therapy.
What are you involved in on and off campus?
I am a student-athlete on the women's basketball team here at UTRGV where I do far more than set screens, score and play defense. I am an active member in the community where I volunteer at the Edinburg Children's Hospital and at other events that take place around the Valley. I am also a member of the UTRGV's Health and Kinesiology Club.
What is your biggest accomplishment to date?
Graduating No. 4 in my senior class at Weslaco High School; being a team member of a back-to-back Sweet Sixteen finalist for basketball in the state of Texas; making the Dean's List all semesters thus far in my college years; and, most of all, being a person I am proud of being.
What advice do you have for future students?
Time management is a major key to success. Also, have your priorities in check; make sure that schoolwork comes first most of the time.  If you don't know something, ask, because chances are many other people are wanting to ask the same thing. Have perseverance; don't be afraid to fail because often the most successful people continue to strive and thrive from failure. Lastly, have fun. College is about making friends and memories that will last a lifetime.