Sub Menu Toggle
Javier Segovia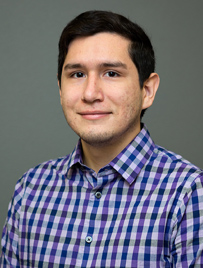 Name: Javier Segovia
Age: 23
Major: Social Work
Hometown: Mission
Why UTRGV?
With the merger creating one new unique entity, I decided it would be best to complete my graduate studies at UTRGV.  I love that it is close to home where I can see my family, afford the cost of living, have an opportunity to be hired within the university and grow with my partner. I have networked with various individuals from both campuses and made great friends. I think I made the right choice as I see my career and life unfold each day.
What made you decide on your current major?
I have such a strong passion to help all those around me. I grew up in an environment that was non-judgmental, respectful and full of good morals.  I want to employ my skills and values as a social worker to help people and increase their joy in life and wellness.
What are your plans after graduation?
I want to pursue a career within a hospital or counseling setting as soon as possible. To do so, I plan on taking my state licensing exam and go further by achieving my clinical license to open my own community center and private practice. To finish my career, I want to become a professor and teach the next generation of social workers.
What are you involved in on and off campus?
I am a BASICS (Brief Alcohol Screening and Intervention for College Students) facilitator staffed by the Counseling Center and also completing my internship within the department. I am a part of the Graduate Association of Student Social Workers and a member of Phi Alpha Mu Social Work Honor Society.
What is your biggest accomplishment to date?
Being the first in my family to receive a bachelor's degree and attend graduate school. I was able to graduate in May 2015 with a bachelor's degree in social work from UT Pan American with honors, Cum Laude. I was also the president of the Social Work Student Association, received an acceptance into Phi Alpha Mu Social Work Honor Society, got accepted into graduate school, and was on the Dean's List four times.
What advice do you have for future students?
Obstacles have always shaped my thinking but my parents, brothers, my nominator for this recognition and my partner have motivated me to accomplish more. Having a support system has helped me, and I'm sure others can also benefit from having one. Never dream too small, always have a backup plan, develop a good support team, and stay motivated.