Sub Menu Toggle
Genesis Madeline Flores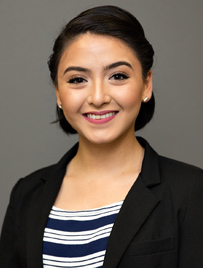 Name: Genesis Madeline Flores
Age: 21
Major: Political Science and Public Relations
Hometown: La Joya 
Why UTRGV?
It is easy to want to leave to a bigger city, but I chose UTRGV because I knew that it would provide me with the education that I need to reach my career goals. UTRGV has opened so many doors for me academically and career wise without having to move far away from my family. 
What made you decide on your current major?
My freshman year I came in as a pre-dietetics student but when I took a course on medical ethics, I was challenged. I learned a lot about myself in that course – one, that I was not made to work in the medical field as I had first planned, but, also, that I still want to help people. I started again from step one and changed my major to political science along with public relations.  I get excited about all the courses I get to take, because throughout the whole process I get closer to my goal, which is to own a public relations firm. 
What are your plans after graduation?
I really enjoy being a student, so I plan to further my education in pursuit of a master's degree in communications. I plan to also find a job in a public relations or advertising firm. 
What are you involved in on and off campus?
Currently, I am the secretary for Sigma Lambda Gamma National Sorority, Inc. which I've been a part of since 2014. I am also an orientation leader at the UTRGV Office of Recruitment and Scholarships, where we get to help incoming freshmen settle into a college environment and serve as tour guides providing campus tours for visitors and future UTRGV students.   
What is your biggest accomplishment to date?
Having the opportunity to work at UTRGV as an orientation leader has been a great accomplishment along with being a sister of the largest Latina-based sorority in the country, Sigma Lambda Gamma National Sorority, Inc.
What advice do you have for future students?
It is okay to be uncomfortable, we are supposed to feel challenged in order to grow. Nothing that is worth obtaining, such as a college degree, should be easy. If you have a concern or you are not sure, do not be afraid to ask for assistance. Help is always there. Also, time is too valuable to not be used properly, so time management is a great survival skill in academics as well as in life.