Sub Menu Toggle
Daniel Rodriguez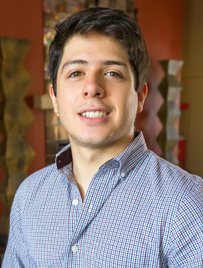 Name: Daniel Rodriguez
Age: 21
Major:  Finance
Hometown: Matamoros, Tamaulipas, Mexico 
Why UTRGV?
I chose to attend The University of Texas Rio Grande Valley because of the culture that this community has to offer. There is nowhere else like UTRGV; it offers a great education, it's close to home, and it has a fantastic finance program. UTRGV has offered me everything I need to achieve all my goals in order to succeed. 
What made you decide on your current major?
I decided on studying finance because I have always wanted to be a businessman like my father.  After taking some business classes with some of the best professors, I decided that business was what I was passionate about. I want to help people manage and invest their money wisely. 
What are your plans after graduation?
After graduation I plan on getting a job in the United States to get a lot of experience in the business world. As a Mexican citizen, finding a job might be difficult in the United States, but it is something that I will manage to accomplish. After a couple of years, I plan to obtain my master's degree while still working. Finally, I would like to open up a business in the United States. 
What are you involved in on and off campus?
Currently, I am employed as a lead resident assistant at the Housing and Residence Life Department at Casa Bella on the Brownsville campus. Being part of housing and residence life gives me the opportunity to volunteer at events that UTRGV offers while interacting with the residents of Casa Bella and the wonderful staff. I am also a part of the Residential Hall Association, Battle of the Buildings, and the Buckaroo Committee. 
What is your biggest accomplishment to date?
My biggest accomplishment to date is to be able to attend UTRGV as an international student. I have been able to make the Dean's List and the President's List while working on campus at the Dean of Students and in Housing and Residence Life throughout my years at the university.
What advice do you have for future students?
The best advice that I can give future students, although is it a cliché, is to follow your dreams. Focus on what you want and don't let anyone tell you that it is impossible, because it is possible. Don't be afraid to make mistakes; if you do happen to make mistakes, just learn from them and have fun.