Sub Menu Toggle
Jorge Alejandro Rodriguez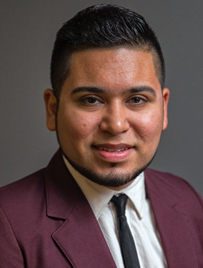 Name: Jorge Alejandro Rodriguez
Age: 21
Major: Mass Communication – Public Relations
Hometown: Pharr 
Why UTRGV?
Like many people, I wanted to leave the Rio Grande Valley and pursue my degree elsewhere. However, UTRGV felt appropriate since I am a first-generation college student. Staying close to my family was an important factor because their support and guidance has helped me accomplish my goals. Other than UTRGV being close to home, the culture shared throughout the university is awesome. UTRGV is truly one of a kind.
What made you decide on your current major?
As a freshman I knew I wanted to seek a career within the media. I started with broadcasting but as I explored the different concentrations in my field of study, public relations is what I am passionate about. Social media, SWOT analyses, and campaign strategies intrigued me into knowing how these play a very important role to a business and will help me get closer to my goal of becoming an owner of a public relations firm.
What are your plans after graduation?
After graduation, I plan on pursuing a master's degree in public affairs or seeking a career in graphic design at The Art Institutes, like the Art Institute of Houston, since I am completing a minor in that field. I also plan on obtaining a job in a public relations firm and eventually become a business owner.
What are you involved in on and off campus?
Currently, I am employed with UTRGV as an orientation leader in the Office of Recruitment and Scholarships.  I also assist in an internship as part of the social media team with the UTRGV Athletics Marketing and Communication Department. Outside of campus, I am a part-time self-employed graphic designer. I design business cards, flyers, posters, etc. for personal use or businesses. 
What is your biggest accomplishment to date?
One of my biggest accomplishments is making my family proud because I am the first to attend a university. Guiding my younger sister on her road to college is another one of my accomplishments. I've gained enough knowledge working as an orientation leader to help her decide on what career she wants to pursue and how she can reach her goal. Lastly, I am proud that I recently gained an internship in my field of study as well as recognition for my design work.    
What advice do you have for future students?
One thing I always say to incoming freshmen is to step out of their comfort zone. The transition from high school to college can be tough but getting to know people and taking some risks will definitely help in the long run. As a freshman, I was a "parking lot" student but becoming an orientation leader and being involved on campus gave me a very different perspective to what the college experience really is. ­­­­