Sub Menu Toggle
Nayeli Elizavet Garcia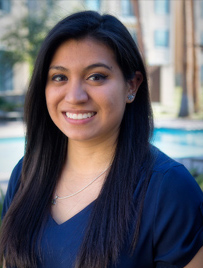 Name: Nayeli Elizavet Garcia
Age: 20
Major: English
Hometown: Harlingen
Why UTRGV?
My two favorite teachers – Amanda and Jesse Cardenas at Port Isabel High School – graduated from The University of Texas at Brownsville/Texas Southmost College, and I wanted to follow in their footsteps as much as possible. The fact that at UTRGV I am more than just a face in a classroom is the icing on the cake. At UTRGV, the opportunities are endless, and the staff truly cares. Those special qualities of this university can't be found just anywhere.  
What made you decide on your current major?
I love learning how to manipulate words in a way that can make someone see emotions far better than any movie or picture can show. To be able to show future students this kind of power is what continues to drive me forward.
What are your plans after graduation?
I want to start teaching as soon as possible, but I also want to continue with school and pursue a master's in educational leadership. School has always been home to me, and I don't imagine myself away from it any time soon.
What are you involved in on and off campus?
I am a lead resident assistant for Casa Bella, and a tutor/mentor for the College Assistance Migrant Program. I am a part of the Residential Hall Association, Battle of the Buildings, the Buckeroo Committee, University Scholars, and a member of Alpha Psi Lambda. I also work at the Port Isabel Autism Awareness Walk every year.
What is your biggest accomplishment to date?
Being the first in my family to go to college is something that I am extremely proud of because my parents and Godparents sacrificed so much time and effort to get me here. Their constant support is my biggest motivation, and my hope is to continue to show them my appreciation through my accomplishments. 

What advice do you have for future students?
Obstacles of all shapes and sizes are going to be thrown at you, it's a guarantee, but when you truly want to succeed there will always be a way. Just keep moving forward. Remember, today is always a good day.