Sub Menu Toggle
Joseph Rayner IV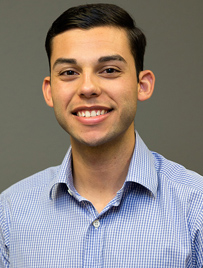 Name: Joseph Rayner IV
Age: 21
Major: Exercise Science - Pre-Physical Therapy
Hometown: Harlingen, Texas 
Why UTRGV?
I first decided to receive an education at UTRGV mainly due to the affordable cost of attendance and the ability to stay within the Rio Grande Valley community. However, in the end this university has provided me with unbelievable networking opportunities that are giving me an edge in pursuing my desired career. It has also provided me with top quality education and professional development that I don't believe I could've received at any other university. 
What made you decide on your current major?
My interests in exercise science started back when I was 13 years old due to a book that I read called "Complete Conditioning for Tennis" by a physical therapist named Todd Ellenbecker. I found it awe-inspiring to witness his knowledge in enhancing human performance first hand, and would later ignite my passion to make the field of physical therapy my own future profession. 
What are your plans after graduation?
I'm currently looking forward to potentially entering a doctorate program in physical therapy in the state of Texas. Once I complete my doctorate in physical therapy, I hope to achieve a fellowship from the American Academy of Orthopedic Manual Physical Therapists to give me the opportunity to possibly work as a physical therapist for professional athletes. Once I gain all of these experiences, I plan on bringing my knowledge back to the Rio Grande Valley to help build the allied health services needed in our community. 
What are you involved in on and off campus?
On campus, I currently work at the University Recreation Center as a fitness and wellness student supervisor, personal trainer, and group exercise instructor. I have been a principal investigator and research assistant for several scholarly research projects. Off campus, I actively volunteer at several outpatient physical therapy clinics in our local area. 
What is your biggest accomplishment to date?
Receiving first place for best undergraduate student poster presentation at the 2015 UTRGV School of Medicine's South Texas Interprofessional Team Collaborative for Health Symposium. It was a truly humbling experience to receive this honor with my research group.
What advice do you have for future students?
Dream big, persevere, and above all else do what you love. What I have accomplished and currently encounter juggling school, work and volunteer activities may seem like a lot to some people, but I honestly love what I do. I love seeing what I am able to accomplish, I love witnessing the lives that I am able to impact year after year, and I know that what I endure will eventually allow me to accomplish my dreams.