Sub Menu Toggle
Steven Sargent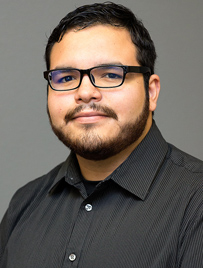 Name: Steven Sargent
Age: 21                  
Major: Chemistry and Biology
Hometown: Brownsville 
Why UTRGV?
UTRGV offered an opportunity for me that no other school could match. It provided me with the chance to obtain a high quality education at a university with a great environment, phenomenal and caring staff, cultural richness, and a friendly community – all offered right in my backyard at an affordable cost. 
What made you decide on your current major?
The subject of chemistry has always fascinated me. After taking general chemistry my first semester, I was confident in my decision of pursuing a bachelor's in chemistry. I later added a biology major in hopes to become a more versatile individual and to further challenge my curriculum. 
What are your plans after graduation?
After receiving my bachelor's degree in chemistry and biology, I will continue my academic career by attending optometry school. Eventually, I will become an optometrist and return to the Valley to serve my community.   
What are you involved in on and off campus?
Soon after my first year at UTRGV, Lecturer Sylvia G. Diaz and Lab Coordinator Everardo Villarreal II provided me with an opportunity to become a chemistry lab assistant for the chemistry department. Last semester, I became a chemistry teaching lab associate in the department and this summer I am serving as a chemistry department supplemental instructor. In all three of these positions, I have been able to help students understand and thrive in their education, thus providing me the most rewarding job experience anyone could be lucky enough to have.  I am also involved in several clubs around campus. I am currently the president of the Rotaract Club, which encourages students to provide service above self and give back to the community through various volunteering opportunities on and off campus. Additionally, I am the current treasurer for the Pre-Optometry Society as well as a member of the Indian Cultural Association. 
What is your biggest accomplishment to date?
My biggest accomplishment is the time management skills that I have acquired and cultivated from having to balance my time between my classes, jobs, organizations, volunteering, family, and friends, and, in turn, excelling in anything I put my mind to.  In addition, another grand accomplishment was having the privilege of being one of the founding members of the Pre-Optometry Society student organization and witnessing the club thrive. 
What advice do you have for future students?
Time management is the key to success; balance your time wisely and set your priorities straight. You are responsible for your own future. Put in the hard work and you will be rewarded by reaching your goals.