Sub Menu Toggle
Susanna Thalia Perales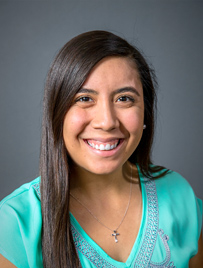 Name: Susanna Thalia Perales
Age: 21
Major: Special Education
Hometown: Los Fresnos 
Why UTRGV?
The choice to attend The University of Texas at Brownsville/Texas Southmost College was a fairly easy one. Several of my family members attended UTB/TSC, so it was a way to keep the tradition going. In 2015, UTB/TSC merged with The University of Texas-Pan American and became better than ever as The University of Texas Rio Grande Valley. Of course, there were times where it was difficult to adjust, however, being a student at UTRGV has been and continues to be a blessing. 
What made you decide on your current major?
Working in a field where I can simultaneously aid and make a positive impact on the lives of children with special needs has always been an aspiration of mine. My older sister, Alyssa, also works in this field. Having the opportunity to volunteer in her classroom made me fall in love with this career choice even more. As I delved deeper into my studies, I was introduced to my current mentors, Dr. Hsuying Ward and Dr. Steve Chamberlain. They expanded my knowledge base and provided me with experiences in the field of special education that have left a lasting impact in my life.
What are your plans after graduation?
I plan to begin my career in the field of special education at the elementary level. Also, I will seek to immediately further my education by applying for the master's program in occupational therapy, while continuing to focus on working with special needs children. 
What are you involved in on and off campus?
The student organization I am a member of has been a tremendous part of my undergraduate years and experiences. The main purpose of S.O.U.L. (Student Organization for Unique Learners) is to advocate and promote awareness about disabilities, and everything we organize is done in order to make a difference in others' lives. As an active member in S.O.U.L., I had the opportunity to take what I learned in the classroom and transfer my knowledge and skills into real-world experiences as I volunteered at numerous events for children with special needs and their families. 
What is your biggest accomplishment to date?
My acceptance into the clinical teaching program at UTRGV was an important milestone for me to reach on my way to becoming a special education teacher. Additionally, being voted president of my student organization was amazing and proved to be rewarding in so many ways. This past summer, my advisor, three of my fellow officers, and I attended the TCEC (Texas Council for Exceptional Children) summer conference to present the successes we had experienced with our student organization. The board members were extremely impressed with all of our accomplishments; they created the "Chapter Excellence Award" in our honor and presented it to us on the last day of the conference. 
What advice do you have for future students?
The key to being a successful student is time management. The semester may become overwhelming at times, but keeping a planner will help you plan accordingly and not get stressed over deadlines. With that being said, don't forget to enjoy every moment because graduation will come faster than you expect.