Sub Menu Toggle
Angela Ruby Gonzalez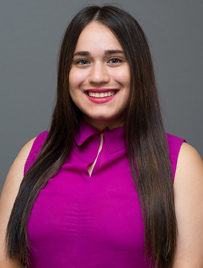 Name: Angela Ruby Gonzalez
Age: 20
Major: Rehabilitation Services
Hometown: Roma 
Why UTRGV?
Back in 2013, when I graduated from Roma High School, I knew I wanted to attend a university close to home. The culture UTRGV offers is congenial. Not only does this university make you feel welcomed but it also offers a vast amount of opportunities and programs. 
What made you decide on your current major?
The reward one acquires from helping others is incomparable. I have always been passionate about helping individuals reach their full potential. As a student in the school of rehabilitation services, I've learned innumerous techniques and methods on how to become an advocate for those who need a voice. In addition, I have always had a strong interest in my minor, biology; I am fascinated by the study of life. 
What are your plans after graduation?
The physician assistant program this university offers is impeccable, so after I acquire a bachelor's degree, I wish to apply to that program and continue to further my education. However, the love I have for animals has encouraged me to also look into veterinarian school. Although I am still unclear as of what I plan to study, I am positive I will end up doing something I love. 
What are you involved in on and off campus?
I have been working at the Student Union Game Room for over a year now where I am a team leader. Working on campus has allowed me to keep track of my academics while gaining valuable experience.    
What is your biggest accomplishment to date?
Dedication and hard work always pays off; I am proud to say I've been on the Dean's List and President's List since my first semester at UTRGV. Another major accomplishment I've achieved is independence. Managing my own time, money, and academics has taught me how to make it on my own.
What advice do you have for future students?
Take advantage of all the resources available. Don't be afraid to step out of your comfort zone and get involved. Spending more time on campus is a major key to success.