Sub Menu Toggle
Isabella Hernandez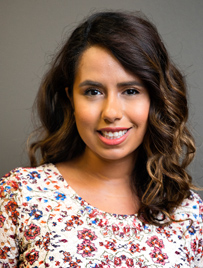 Name: Isabella Hernandez
Age: 21
Major: Graphic Design
Hometown: Mission 
Why UTRGV?
I chose UTRGV since it was close to home, and I had tons of opportunities here that pertained to my major. While UTRGV has become such a large university, it still maintains a closeness between its faculty and students. My professors' doors are always open to hear me out and they actually help to push students forward in their field by providing specialized encouragement and opportunities.   
What made you decide on your current major?
It was in my eighth grade computer class where I discovered my passion. My incredible teacher, Mr. Alvarado, introduced our class to the world of graphic design, and I was immediately intrigued. He nurtured my newly found talent by providing me with the tools and resources to continue learning even outside the classroom. In high school I was blessed with another amazing teacher, Mrs. Roge, who encouraged me to participate in the Technology Student Association's graphic design-related competitions. She stood by me as I prepared my projects and cheered me on the whole way through. Both teachers have truly been a blessing and continue to inspire me through their encouraging words of wisdom. 
What are your plans after graduation?
My goal for the next five to 10 years is to simply create. As a graphic designer I hope to create pieces that not only communicate ideas but also inspire. I want to master new forms of communication and never settle with the mediocre. I plan to work for a studio after graduation while still maintaining my freelance work on the side. A dream of mine is to one day write and illustrate my own children's books. I've created the artwork for a couple of books through Rebel Spark Media and enjoyed every minute of it. 
What are you involved in on and off campus?
I've worked for UTRGV's Marketing and Creative Services as a part-time graphic designer for more than three years. I have been fortunate to work with an intelligent and creative team that continuously encourages me strive for excellence. I have learned how to better communicate and execute the needs of clients in real-world situations. Additionally, I am the assistant graphic designer to Joe Cavazos, owner of Joe Cavazos Design. His work has been featured in churches across the nation and by many contemporary Christian musicians, such as Jimmy Needham and All Sons & Daughters. His work inspires me and, as a result, I have volunteered to create artwork for various local churches here in the Valley. These volunteer opportunities have allowed me to not only gain experience but to also use my skills for the kingdom of God.
What is your biggest accomplishment to date?
Besides being on the Dean's List every consecutive semester throughout my college career and winning a silver Addy award, my biggest accomplishment has been participating in UTRGV's study abroad program to China with professor Ping Xu. I not only learned photography during the trip but also about another culture that was completely foreign to me. The experiences and friendships I made over there were truly priceless. 
What advice do you have for future students?
Stay positive and focus on you. Often times I step into a class and feel intimidated by not only the course, but the talent of my peers. However, I've learned that as long as I do my best and focus on what makes my talent special, it has helped me succeed not only academically but professionally.