Sub Menu Toggle
Karla Sanchez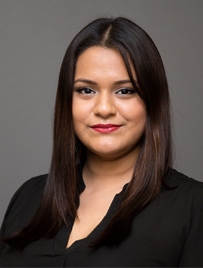 Name: Karla Elizabeth Sanchez
Age: 22
Major: Criminal Justice
Hometown: McAllen
Why UTRGV?
I come from a family background where my mother valued the importance of an education and consistently expressed her desire for her children to become educated.  This journey has made me realize the real significance of having a supportive family while pursuing my degree; UTRGV has allowed me to stay close to my immediate family while in school.  Attending UTRGV has been one of the wisest decisions I have made.  UTRGV offers an outstanding structure of higher education with outstanding professors. The relationship UTRGV's faculty, administration, and staff has with its students fosters student involvement and is crucial because it helps students thrive professionally and personally. 
What made you decide on your current major?
When I started college, I knew I wanted to pursue a major involving law enforcement, crime scene investigation, and the legal system. I took classes that I found interesting. The material was fascinating and I excelled because I enjoyed it. I picked a major that I have a genuine curiosity for and which I feel will help me make a difference in my future career.
What are your plans after graduation?
The criminal justice field offers so much opportunity. Right now there are so many things that I would love to do, so I'm not sure yet what area I will pursue. I have decided to obtain a master's degree in criminal justice. I also intend to gain some hands-on experience that will help build my résumé.
What are you involved in on and off campus?
I have had the opportunity to work on campus in the Office of Student Educational Outreach and the Student Union. These on-campus employment opportunities have allowed me to be a part of UTRGV and give back to our student body by working in areas that assist students with guidance, learning and campus life. I am also a member of the Criminal Justice Student Association which provides me networking opportunities with other students in my field of study. In the community, I am currently volunteering as a member of the Juvenile Court Conferences Committee. I have also volunteered in clinics hosted by the Texas Rio Grande Legal Aid and was a member of the Young Lives Club.
What is your biggest accomplishment to date?
At age 16, I gave birth to my son Julio, my mother passed away, and I was separated from my siblings in foster care. Now at the age of 22, I will be graduating with a college degree from UTRGV this spring. I've learned that I control my future.
What advice do you have for future students?
Nothing worthwhile is ever easy, and this is true for everything. A successful college career requires years of hard work. There will be moments in which you will begin to doubt yourself and your ability to succeed. It is normal to feel this way, but don't let those doubts defeat you; you are capable of achieving anything you set your mind to do.