Sub Menu Toggle
Jacqueline Sanchez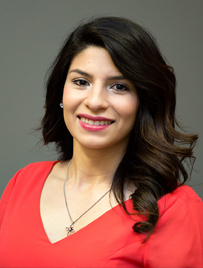 Name: Jacqueline Sanchez
Age: 20
Major: Finance & Marketing
Hometown: Brownsville
Why UTRGV?
UTRGV is a vibrant and diverse community. The students and mentors here are hardworking, humble, and determined to challenge the status quo. I value my culture and my roots, which is well reflected at UTRGV.
What made you decide on your current major?
My mother, Maria Anita, who worked in child care, strongly believed that each child is unique and important. However, I learned that some of these children's families experienced financial hardships. I realized that if I could help these families in distress by providing resources that improved their economic stability, it would be easier for children to grow up and succeed in a stress-free environment. This and other circumstances inspired me to become a businesswoman with the goal to educate people to make wise investments.
What are your plans after graduation?
I want to go to graduate school and obtain a job in corporate finance or in a recognized automotive company. Another goal is to enroll in the Chartered Financial Program to enhance my knowledge of investing. After accomplishing this, I want to move out of state and take on a new challenge.
What are you involved in on and off campus?
Part of my daily life is working with students alongside amazing mentors. I currently work with Mentoring and Transition Services at the Office of Student Involvement, where I mentor 17 protégés who are pursuing a business degree with educational resources to aid their transition from high school to college. I learn something new every day; it is an enriching position to hold. I am also part of Enactus, a new campus organization that focuses on helping Deferred Action for Childhood Arrivals (D.A.C.A.) students and families in low-income communities become aware of opportunities available to them to pursue a postsecondary education. I am also a member of the Association of Latino Professionals in Finance and Accounting, National Society of Leadership and Success, Fuerza Latina, and the Spirit Program.
What is your biggest accomplishment to date?
I am most proud of acquiring more than 25 hours of community service this fall semester, which included volunteering with the UTRGV Food Pantry and assisting Proyecto Azteca to build homes. Due to my service off and on campus, I have been awarded the Who's Who Among Students in American Universities & Colleges and was presented with the National Engaged Leader Award. Giving back without asking anything in return opens up many opportunities.
What advice do you have for future students?
I was raised to believe that our culture works hard to put food on the table but if I worked hard now on obtaining an education, my future would be brighter. If you are a non-traditional student or someone who encourages others to pursue an education, I salute you. We need to help our future generations strive for more, to become somebody. It takes great determination, discipline, and a great attitude to accomplish one's goals. Never forget to smile, ask for help, and be thankful.