Sub Menu Toggle
Ana Victoria De La Garza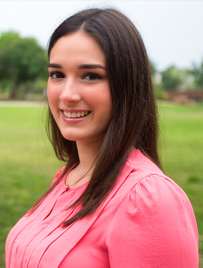 Name: Ana Victoria De La Garza
Age: 22
Major: Finance
Hometown: Brownsville 
Why UTRGV?
I chose The University of Texas Rio Grande Valley for various reasons. It is close to home, has the program of study I wanted, and it has a dynamic atmosphere and a beautiful campus.  Being close to home and family has allowed me to be better off financially and I've been able to study finance from the various choices of bachelor's degree offered in business at the university. 
What made you decide on your current major?
Various teachers and professors are to be thanked for guiding me into studying something I am truly passionate about. Since Med High, I was involved in the Texas Area Model Organization of American States (TAMOAS), where I was able to participate in diplomatic debates related to financial and economic issues. I soon found myself competing at the actual OAS Headquarters in Washington, D.C., where I served as vice chair at the Model Organization of American States.  This experience helped me realize my passion for finance and to pursue it in my studies and as a career.
What are your plans after graduation?
My plans after graduation are to focus on completing an MBA and then pursue a Ph.D. program in finance. I don't plan to take any time off from school but I would like to take a vacation and travel through as many countries in South America as possible. 
What are you involved in on and off campus?
I work with Recruitment and Scholarships, putting into practice my leadership skills. I have learned from my boss, Brenda Rodriguez, to not only be better but the best! Fortunately, I have had the opportunity to study abroad and experience true nature in the gorgeous jungles of Costa Rica and learn about the importance of our ecosystem with UTRGV faculty member Pamela Herring. Also, I recently applied to and was selected to attend the Ph.D. Project this past November in Chicago. While there, I learned so much about the many Ph.D. programs in business and met Ph.D. students as well as professors in every business field from all over the country. 
What is your biggest accomplishment to date?
My biggest accomplishment so far is knowing I will be graduating this Spring 2016. I have proven to myself that if I can finish earning my 4-year degree, then I can finish anything I set my mind to.  I know that when I start working in the field of finance, I can wake up every day and not feel like I have worked a day in my life because I will love what I do. 
What advice do you have for future students?
The best advice I can give students is to always be one step ahead; don't procrastinate, and let your voice be heard. Being a step ahead allows students with enough time to be prepared for any unexpected opportunities or situations, don't let procrastination get in the way! Students should always trust in letting their voices be heard with their ideas, about something they dislike, or what makes them feel uncomfortable; speak up, because no one can be heard or helped if they don't say anything.