Sub Menu Toggle
Amanda Lee Longoria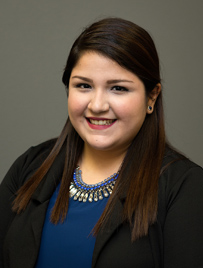 Name: Amanda Lee Longoria
Age: 20
Major: Psychology
Hometown: Brownsville
Why UTRGV?
It is common for people in the Valley to want to pursue a degree elsewhere, but what I love about UTRGV is that it provides me with the unique opportunity to be able to take classes at my hometown, or away from home. This institution also provides exceptional opportunities for first-generation students, like myself, that are not offered elsewhere.
What made you decide on your current major?
I have always been selfless. My passion is helping others. I want to be able to say I make a difference in people's lives. I am so intrigued with the way the human mind is set up, along with helping one cope with their emotions and personality. Not only do I want to learn about others, but I strive to help myself grow as an individual. Psychology allows me to put all of that into play.
What are your plans after graduation?
After graduation, my plan is to obtain a job that will offer me insight into the field of psychology in order to continue my growth as a professional.  I also plan to pursue a master's degree in mental health counseling or school psychology, and become a Licensed Professional Counselor (LPC).
What are you involved in on and off campus?
Currently, I am employed as a student assistant at the UTRGV Office of Recruitment and Scholarships, where our team helps incoming freshmen transition into our university setting, and welcomes visitors to the university by providing campus tours. I am also a Hispanic Scholarship Fund/Valley Alliance of Mentors for Opportunities and Scholarships scholar, which provides me with the opportunity to network and mentor with professionals in various areas related to my career interest while giving back to the community through volunteering at different local events.
What is your biggest accomplishment to date?
One of my biggest accomplishments is being able to continuously make my parents proud. There is definitely no way I would be where I am today without their unconditional love and support. I also love being able to serve as a role model to my younger sister and younger cousins and helping them realize that attending college is something that is definitely in their reach.
What advice do you have for future students?
It is easy to become lost when you first come into a new environment, but don't let that get in the way of achieving your goals. Don't be afraid to step out of your comfort zone. Manage your time wisely, and plan ahead – trust me, that show on Netflix is always going to be there, but the time you have to study won't always be.