Sub Menu Toggle
Rafael Chico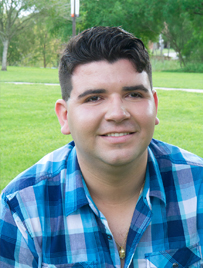 Name: Rafael Chico
Age: 21
Major: Mathematics with Teacher Certification (7-12th)
Hometown: Arecibo, Puerto Rico
Why UTRGV?
I chose to attend UTRGV in Brownsville because it's a beautiful campus full of wonderful people and educators. I love the mathematics classes the campus offered and the way the teachers engage the students in their lessons. The professors guide the students and are always there for them. Another thing that I love about UTRGV is that students get to meet with their professor and create a relationship with them; we are not just a number.
What made you decide on your current major?  
I have always been passionate about mathematics. Ever since I was a little kid, I wanted to be a math teacher. Through the UTeach program, I will be certified to teach 7-12th grades. I enjoy helping students with their learning. I love my major because I will be able to help all those students who need help and show them different paths in their education.  
What are your plans after graduation?
I plan to be part of Teach for America. I want to be part of this amazing program because I want to help students in need with their mathematics skills. I believe each kid has the right to a good education.  I also want to continue my education and pursue a master's degree in special education or leadership.
What are you involved in on and off campus?
Currently, I am an intern at the STEMS (South Texas Engineering and Science) office and a resident assistant at Casa Bella in Brownsville.  I am also involved with the Learning and Enrichment Center where I am a mathematics tutor. In addition, I am a member of the UTeach Club, Resident Hall Association, and the Student Equality Alliance. Outside of campus, I am involved with the Valley Aids Council and UTeach, which has helped me gain experience by allowing me to tutor high school students in mathematics. 
What is your biggest accomplishment to date?
My biggest accomplishment has been the ability to work two jobs while taking 10-20 hours a semester and still be part of the university's Dean's List.  I'm also proud of receiving the Excellence Scholarship from the university and scholarships from the Department of Mathematics and the UTeach Program.    
What advice do you have for future students?
Always believe in yourself. Ever since I can remember I have heard my mom telling me this quote: "Live as if you were to die tomorrow. Learn as if you were to live forever." I have always lived by this quote because life is short and you have to live to the fullness, but learning is something that we need to do every second of the day.