Second Battle of El Clareño and Hanging of Zapata County Judge
After the retaliatory attack of Confederate forces at La Soledad in which houses and buildings were destroyed, Octaviano Zapata and his men attacked El Clareño, ultimately capturing and hanging Zapata County Judge Isidro Vela. Judge Vela was considered untrustworthy by Zapata and his followers after he issued orders to arrest Antonio Ochoa and his men, following an April 1861 meeting at Carrizo. Zapata and his men continued their raids along the border until September 1863 when Confederates under Major Santos Benavides killed Zapata and several of his men near Mier, Tamaulipas, Mexico. Thereafter, the war moved away from Zapata County. Under the protection of Benavides' troops, area merchants and shippers were able to export Confederate cotton to Mexico for the lucrative European markets. In the process, they evaded the Union Navy's blockade of Confederate ports.
Listen
---
Después de la violenta represalia por parte de las fuerzas confederadas en La Soledad, durante la cual se destruyeron viviendas y edificios, Octaviano Zapata y sus hombres atacaron El Clareño, capturando y ahorcando al juez del condado Isidro Vela. El bando de Zapata consideraba a Vela persona traicionera, a causa de la orden de arresto contra Antonino Ochoa y sus hombres después de la reunión sostenida en Carrizo. Zapata y sus partidarios continuaron sus correrías a lo largo de la frontera hasta 1863, cuando los confederados, al mando del oficial confederado Santos Benavides, acabaron con él y con algunos de sus hombres cerca de Mier, en el Estado de Tamaulipas, México. Con posterioridad, la contienda se desplazó fuera del condado de Zapata y, bajo la protección de las fuerzas de Benavides, los comerciantes del lugar y las navieras pudieron emprender la exportación del algodón confederado a México para los lucrativos mercados europeos, eludiendo así el bloqueo naval unionista de los puertos de sureños.
Escucha
---
Details
Location: Zapata, Texas, Zapata County
*Location submerged under Falcon Lake, please visit Zapata County Museum of History for more information.
Access: Tuesday thru Friday, 10:00 a.m. to 4:00 p.m.
Contact: Zapata County Museum of History - Hildegardo E. Flores, EdD., Director and Amparo Montes-Gutiérrez, Curator.
GPS Coordinates
Photos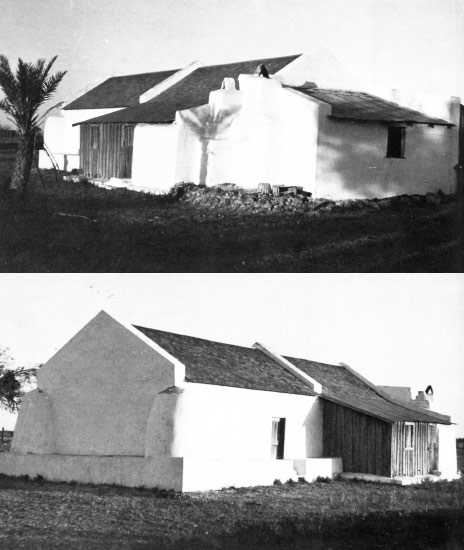 Photo taken by Alan D. Krieger courtesy
of W.Eugene George, Lost Architecture
of the Rio Grande Borderlands,
Texas A&M University Press. To order
this book call toll-free order line:
800-826-8911 or online at
tamupress.com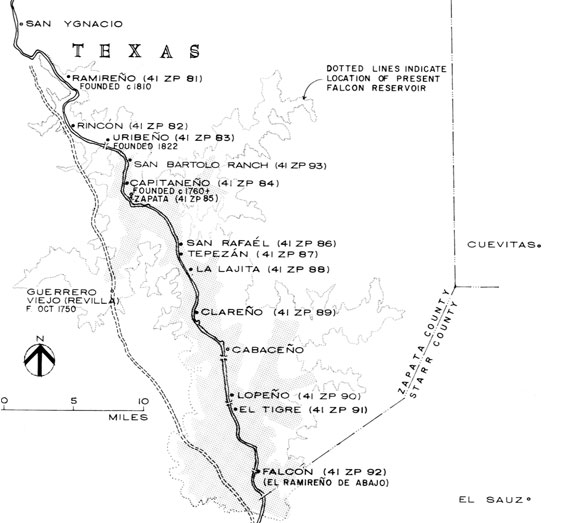 Map courtesy of W. Eugene George,
Lost Architecture of the Rio Grande
Borderlands, Texas A&M University
Press. To order this book call toll-free
order line: 800-826-8911 or online
at tamupress.com