Skirmish at Redmond Ranch
John Redmond's Ranch was located just south of the Zapata County seat of Carrizo on a headright acquired from the Cuellar family, into which he had married. In 1858, Redmond, a local merchant and postmaster, had petitioned for the formation of Zapata County from lands in Webb and Starr Counties. Within a short time, he became the first Zapata county judge and wielded significant political influence. On May 21, 1861, following Captain Santos Benavides' killings of Union supporters at El Clareño, a large force of Cortinistas--followers of Juan Cortina--surrounded a Confederate unit at Redmond's Ranch. Confederate reinforcements soon arrived from Laredo, causing Cortina to retreat across the Río Grande after a running fight. At the end of the Civil War the U.S. Army, including U.S. Colored Troops, created a post at this ranch that lasted until 1867.
Listen
---
El rancho de John Redmond estaba ubicado justo al sur de Carrizo, sede del condado de Zapata, en una concesión de tierras de la familia Cuéllar, a la que accedió por la vía del matrimonio. Redmont, comerciante local y administrador de correos, había solicitado en 1858 la formación del condado de Zapata mediante la agregación de terrenos pertenecientes a los condados de Webb y Starr. En poco tiempo, fue nombrado el primer juez del condado y ejercía una importante influencia política. El 21 de mayo de 1861, después de la matanza por parte de las fuerzas del capitán confederado y futuro coronel Santos Benavides de partidarios de la Unión en El Clareño, un gran contingente de cortinistas, es decir de seguidores de Juan Cortina, pusieron cerco a la unidad confederada en el Rancho Redmond. Pronto llegaron de Laredo refuerzos de la Confederación, obligando a Cortina a retirarse a través del Río Grande después de librar batalla. Al final de la Guerra de Secesión, el ejército estadounidense, incluyendo las tropas del Regimiento Negro, emplazó una guarnición en este rancho, en el que continuó hasta 1867.
Escucha
---
Details
Location: Zapata, Texas, Zapata County
*Location submerged under Falcon Lake, please visit Zapata County Museum of History for more information.
Access: Tuesday thru Friday, 10:00 a.m. to 4:00 p.m.
Contact: Zapata County Museum of History - Hildegardo E. Flores, EdD., Director and Amparo Montes-Gutiérrez, Curator.
GPS Coordinates
Photos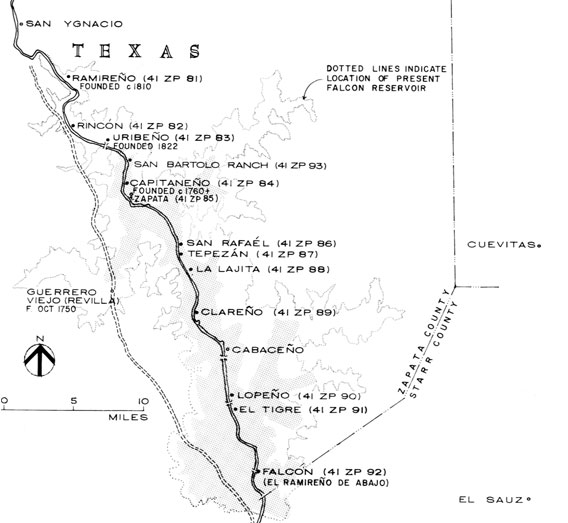 Map courtesy of W. Eugene George, Lost
Architecture of the Rio Grande Borderlands,
Texas A&M University Press. To order this
book call toll-free order line: 800-826-8911
or online at tamupress.com