Confederate Retaliation at La Soledad
After the skirmish at Redmond's Ranch and the running battle at Carrizo in May 1861, Juan Cortina and his followers did not return to Zapata County. However, the fight against the Texas Confederates continued under the leadership of Octaviano Zapata. In December 1862, Zapata and his followers attacked a Confederate supply train near Roma, causing an interruption in the Confederate supply lines. The Confederates retaliated by destroying homes at La Soledad, a farming community in Zapata County about 10 miles south of Carrizo. This retaliatory action inflicted further damage on relations between the Confederacy and its dissenters in Zapata County, leading to further turmoil.
Listen
---
Después de la escaramuza del Rancho Redmon y de la batalla que tuvo lugar en Carrizo en mayo de 1861, Juan Cortina y sus seguidores no regresaron al condado de Zapata. Sin embargo, la lucha contra los confederados de Texas continuó bajo la dirección de Octaviano Zapata, quien en diciembre de 1862 atacó con sus hombres un tren de abastecimiento confederado cerca de Roma, Texas, causando así el corte de las líneas de suministros de la Confederación. Ésta represalió la acometida mediante la destrucción de viviendas en La Soledad, una comunidad agrícola en el condado de Zapata ubicada unas diez millas al sur de Carrizo, lo que deterioró más aún las relaciones entre la Confederación y los disidentes del condado, conduciendo a altercados posteriores.
Escucha
---
Details
Location: Zapata, Texas, Zapata County.
*Location submerged under Falcon Lake, please visit Zapata County Museum of History for more information.
Access: Tuesday thru Friday, 10:00 a.m. to 4:00 p.m.
Contact: Zapata County Museum of History - Hildegardo E. Flores, EdD., Director and Amparo Montes-Gutiérrez, Curator.
GPS Coordinates
Photos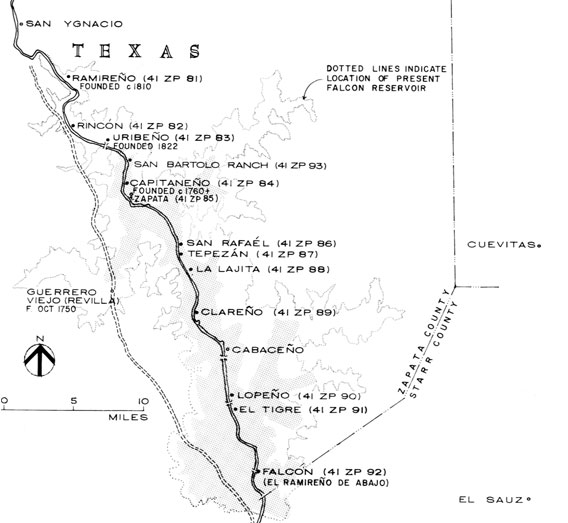 Map courtesy of W. Eugene George, Lost
Architecture of the Rio Grande Borderlands,
Texas A&M University Press. To order this
book call toll-free order line: 800-826-8911
or online at tamupress.com