Reconstruction Era in Zapata County
The era of Reconstruction from 1865 to 1877 fostered political restrictions to Zapata County residents, as well as to those of all Texans. All elected officials had to submit their credentials to Governor Edmund J. Davis for review and approval prior to taking office. Cesáreo Flores was elected Sheriff of Zapata County in 1872 but could not take the oath of office until Governor Davis issued a Certificate of Authorization attesting to his loyalty to the United States. Sheriff Flores' certificate from Governor Davis is dated January 3, 1873. Economically, Zapata, as well as other border towns, prospered greatly when Mexico's Juarez administration declared a duty-free zone all along its border with the United States. The tariff-free exchange of goods brought prosperity and modernization through the introduction of manufactured products that improved working and living conditions on the farms and ranches. During this period, the more affluent families began to send their children to schools in Laredo, San Antonio, Monterrey and Saltillo. Also, many private schools began to open throughout the villages and towns of Zapata County, providing instruction to the population in general. Almost all instruction was conducted in Spanish and the curriculum consisted of Literature, Reading, and Arithmetic with great emphasis on Writing and Penmanship which was then recognized as a sign of personal refinement.
Listen
---
El periodo de reconstrucción que se extendió entre 1865 y 1877 fue una época de restricciones políticas para los residentes del condado de Zapata, así como para los del Estado de Texas. Todos los cargos públicos electos debían recibir la ratificación de sus credenciales por parte del gobernador Edmund J. Davis antes de jurar el cargo. Así, Cesáreo Flores fue elegido sheriff del condado de Zapata en 1872 pero no pudo empezar a desempeñar sus funciones hasta que el gobernador no emitió una autorización que certificaba su lealtad a los Estados Unidos, documento que llegó fechado a tres de enero del año siguiente. Desde el punto de vista económico, el lugar y otros puntos fronterizos prosperaron de manera notable cuando el gobierno mexicano de Juárez declaró una zona franca comercial a lo largo de la frontera con Estados Unidos. El comercio de bienes sin imposiciones aduaneras contribuyó a la prosperidad y la modernización mediante la introducción de productos de manufactura que mejoraron las condiciones de vida y laborales en los campos y los ranchos. Durante este periodo, las familias más acaudaladas empezaron a enviar a sus hijos a escuelas en Laredo, San Antonio, Monterrey y Saltillo. También empezaron a abrirse muchas escuelas privadas en los pueblos y villas del condado de Zapata, contribuyendo a la educación general de la población. Casi toda la docencia se llevaba a cabo en español, y el currículo consistía de materias como literatura, lectura y aritmética, con una gran dedicación a la redacción y la caligrafía, consideradas entonces como señal de refinamiento de la persona.
Escucha
---
Details
Location: Zapata, Texas, Zapata County.
Access: Tuesday thru Friday, 10:00 a.m. to 4:00 p.m.
Contact: Zapata County Museum of History - Hildegardo E. Flores, EdD., Director and Amparo Montes-Gutiérrez, Curator.
GPS Coordinates
Photos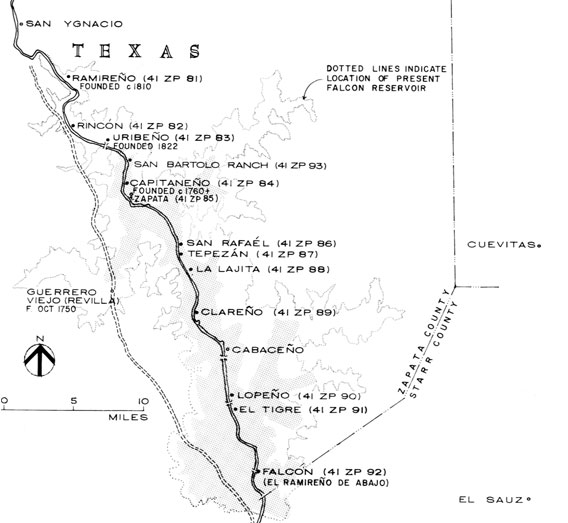 Map courtesy of W. Eugene George, Lost
Architecture of the Rio Grande Borderlands,
Texas A&M University Press. To order this
book call toll-free order line: 800-826-8911
or online at tamupress.com