Confrontation at Carrizo
Strong Unionist support existed in Zapata County from the earliest days of the Confederacy in Texas. An influential resident, Antonio Ochoa, rallied several Union supporters and confronted Zapata County Judge Isidro Vela in April 1861 at Carrizo, the county seat for Zapata County. Although the vote to join the Confederacy had been reported as unanimous by county officials, there were several prominent citizens who demanded that Zapata County remain within the Union. After a long meeting, Judge Vela persuaded Ochoa and his supporters to return peacefully to their homes. A mistrust of central authority was inherent in Zapata borne from the principles of individual rights guaranteed by the El Fuero Juzgo, the Spanish Book of Laws in effect since the 6th century, and manifested most prominently in the area through the actions of such important figures as Bernardo Gutiérrez de Lara, who had launched a strong challenge during the War of Independence against the Spanish authorities declaring Texas independent in 1813. In 1839, in direct defiance to the dictatorial rule of President Antonio López de Santa Ana in Mexico City, Zapata County became the seminal center for the formation of La República del Río Grande hosting the initial gathering of the leaders of the movement at the village of El Uribeño where the republic was proclaimed. Such independence of mind and spirit would contribute to the conflicts in Zapata County during the US Civil War.
Listen
---
En el condado de Zapata se daba un fuerte apoyo en favor del bando unionista desde las primeras épocas de la Confederación en Texas. Antonio Ochoa, un influyente personaje del lugar, aglutinó a diversos partidarios de la Unión y se enfrentó al juez del condado de Zapata, Isidro Vela, en abril de 1861 en Carrizo, la sede del condado. Si bien las autoridades locales habían informado que la votación de incorporarse a la Confederación había sido unánime, hubo varios ciudadanos notables que exigieron que el condado siguiera adherido a la Unión. Después de una larga junta, el juez Vela convenció a Ochoa y a sus seguidores de que regresaran pacíficamente a sus casas. Se daba en el condado de Zapata una desconfianza intrínseca hacia la autoridad central, heredera de los principios sobre los derechos individuales garantizados por El Fuero Juzgo, obra de jurisprudencia de España cuyos orígenes se remontan al siglo VI. Esta suspicacia se manifestó de manera muy evidente mediante las acciones llevadas a cabo por figuras importantes como Bernardo Gutiérrez de Lara, quien planteó un órdago a las autoridades españolas con una declaración de independencia de Texas en 1813 durante la Guerra de Independencia de la colonia. En 1839, en desafío directo al orden dictatorial establecido por el presidente Antonio López de Santa Anna en Ciudad de México, el condado de Zapata constituyó el centro neurálgico para la formación de la República del Río Grande: la población de El Uribeño albergó la reunión inicial de los dirigentes de este movimiento, y en ese mismo lugar se proclamó esta república. Este espíritu y voluntad independientes contribuirían a alentar los conflictos en el condado de Zapata durante la Guerra de Secesión de Estados Unidos.
Escucha
---
Details
Location:  Zapata County on the East Bank of the Río Grande at the confluence of the Río Salado and the Río Grande.
*Location submerged under Falcon Lake, please visit Zapata County Museum of History for more information.
Access:   Tuesday thru Friday, 10:00 a.m. to 4:00 p.m.
Contact: Zapata County Museum of History- Hildegardo E. Flores, Director and Amparo Montes-Gutiérrez, Curator.
GPS Coordinates
Photos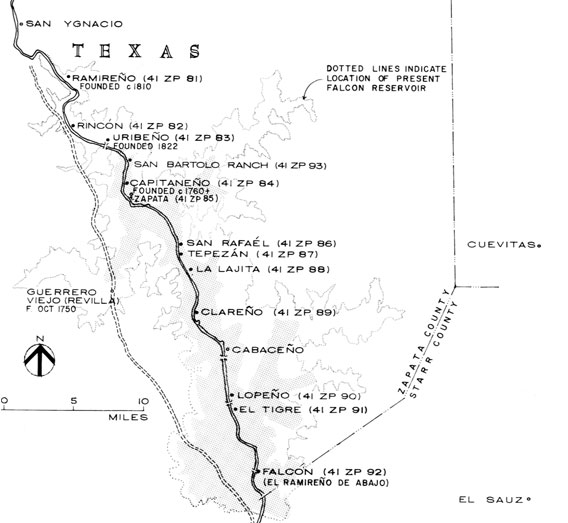 Map courtesy of W. Eugene George, Lost
Architecture of the Rio Grande Borderlands,
Texas A&M University Press. To order this
book call toll-free order line: 800-826-8911
or online at tamupress.com