Massacre at El Clareño
Several days after the April 1861 confrontation at Carrizo between Union supporters led by Antonio Ochoa and Zapata County Judge Isidro Vela, a Confederate Cavalry unit commanded by Captain, later Colonel, Santos Benavides, stationed in Laredo, arrived in Carrizo. Following Benavides' arrival, Judge Vela ordered Ochoa's arrest. Benavides and his unit proceeded to El Clareño where Ochoa and his supporters lived. A battle ensued in which numerous civilians were killed. The news of the massacre spread quickly throughout Zapata County and other communities on both sides of the border. The situation became more complicated as Unionist feelings were mixed with sympathy for Juan Cortina, a landowner from the Brownsville area, who was dispossessed of his lands by dishonest judges and attorneys. Such men had colluded with law enforcement officials who together coveted land grants in existence since Spanish colonial times. The deaths at El Clareño resulted in stronger local opposition to the Confederacy, as well as opposition to using the border area as an export base for cotton through Mexican ports in order to evade the Union Fleet blockade of Confederate ports.
Listen
---
En abril de 1861, varios días después de la confrontación en Carrizo entre los partidarios unionistas dirigidos por Antonio Ochoa y el juez del condado de Zapata Isidro Vela, una unidad de caballería confederada acuartelada en Laredo llegó a Carrizo bajo el mando del capitán y futuro coronel Santos Benavides. Poco después, el juez Vela ordenó el arresto de Ochoa: Benavides y sus hombres se dirigieron a El Clareño, donde vivían Ochoa y sus seguidores, y se desató una batalla en la que fallecieron numerosos civiles. La noticia de la matanza se extendió con rapidez por el condado y hacia otras comunidades a ambos lados de la frontera, contribuyendo a una situación ya de por sí complicada en la que el sentimiento unionista se mezclaba con la simpatía por la causa de Juan Cortina. Éste, un terrateniente de la zona de Brownsville, había sido desahuciado de sus tierras por abogados y jueces corruptos en colusión con agentes de las fuerzas del orden, quienes codiciaban como ellos las concesiones de tierras que existían desde la época colonial española. Las muertes en El Clareño engendraron una oposición local aún mayor contra la Confederación y contra el uso de la región fronteriza como centro de las exportaciones de algodón a través de puertos mexicanos, para así evadir el bloqueo naval unionista de los puertos confederados.
Escucha
---
Details
Location: El Clareño was a small community in Zapata County dedicated to farming and ranching 15 miles south of Carrizo, the county seat for Zapata County.
*Location submerged under Falcon Lake, please visit Zapata County Museum of History for more information.
Access: Tuesday thru Friday, 10:00 a.m. to 4:00 p.m.
Contact: Zapata County Museum of History - Hildegardo E. Flores, EdD., Director & Amparo Montes-Gutiérrez, Curator
GPS Coordinates
Photos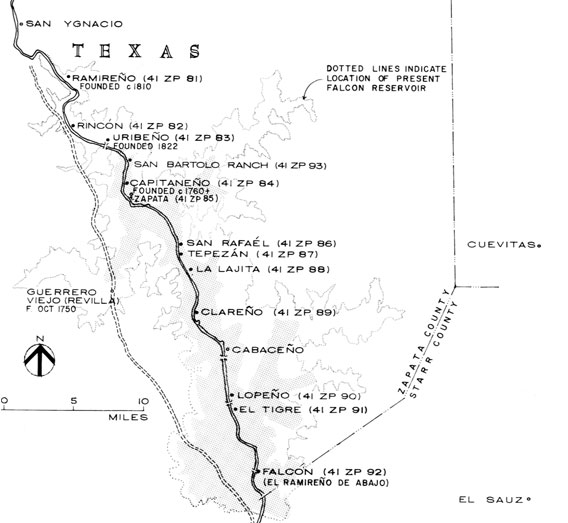 Map courtesy of W. Eugene George,
Lost Architecture of the Rio Grande
Borderlands, Texas A&M University Press.
To order this book call toll-free order line:
800-826-8911 or online at tamupress.com