Sub Menu Toggle
Suchitra Acharjee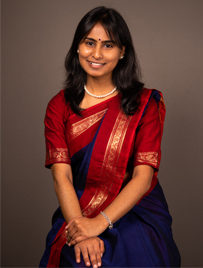 Name: Suchitra Acharjee
Age: 27
Major: Master of Public Affairs in Public Administration
College: College of Liberal Arts
Hometown: Chattogram, Bangladesh
High School: St. Scholastica's Girls' High School 
Why UTRGV?
I first heard about UTRGV from an old friend who told me I could apply without any fee. Application fees can be challenging for ambitious girls like me coming from developing countries and wanting to pursue higher education abroad. Indeed, it was a great relief and an incentive as well. When I researched more about the university and found the MPA program, I knew I had to apply. Fortunately, my program coordinator was very responsive about funding opportunities which ultimately paved my way here. UTRGV made my academic life smooth and untroubled by providing countless financial support, such as grants, loans, and multiple scholarships.
What made you decide on your current major?
It perfectly aligns with my values. Being an extrovert, I have always found joy in helping people. Besides, you got to love what you do. As Condoleezza Rice said, "There's no greater challenge and there is no greater honor than to be in public service." 
What do you hope to achieve beyond the completion of your major?
I see myself working with the United Nations in the future, advocating for women's rights and influencing the foreign policy decision-making process. I like to think I am en route.
What do you like most about UTRGV?
I love UTRGV. The Bronc trail, the trees, and the squirrels, the chapel, the library, the fountain, the indescribably beautiful sunset in the Texas sky - everything gives me a sense of belonging. I come from a very crowded place, so adjusting to the serenity of the RGV was a great deal for me. I am blessed that I wasn't alone in this transition phase. My professors, work supervisors, and colleagues were all there to support me. I am especially grateful to the OVAP, the IASS team, the SGA team, and the Office of Student Success team at UTRGV for assisting me through my hard times and making me strong. I was so busy and involved in helping other students at the office that my problems and homesickness seemed so small to me. I felt part of an impact. Everyone at UTRGV is so welcoming and helpful that you feel valued and included. At the end of the day, I am left with a feeling that I have built a community for me where I thrived. 
What does being a Vaquero mean to you?
A Vaquero is fearless, proactive, and compassionate.
What opportunities has UTRGV helped you find throughout your community?
I got a job within a month at the UTRGV Office for Student Success after coming here. I also had the opportunity to conduct a research project as a graduate research fellow for the UTRGV Office for Sustainability. In the Fall of 2022, I served as an international buddy leader for the IASS, and this year, they honored me with the Outstanding International Female Student award. Later, I was sworn in as a graduate senator with SGA and have been working as a committee member of Campus Life and Community Affairs concurrently. This Summer, I will participate in the Graduate Archer Fellowship in Washington D. C. I am blessed and grateful for all the opportunities. 
What advice do you have for fellow students pursuing their degrees?
Don't play it safe or small in life. You have infinite potential than you know, and the only person that can stop you is YOU.