Sub Menu Toggle
April Martinez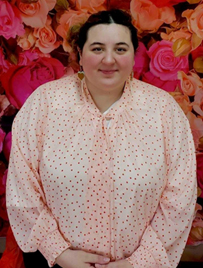 Name: April Martinez 
Age: 22 
Major: Bachelors in English with Teacher's Certification 7-12th grade 
College: College of Liberal Arts & College of Education  
Hometown: McAllen, Texas 
High School: IDEA McAllen College Preparatory High school, McAllen 
Why UTRGV? 
I chose to attend UTRGV for the family aspect of the university. Other universities can't compare to the home ethic this university offers. When I was touring this university, I fell in love with how warm and inviting everyone is. The staff and faculty are very respectful figures, yet it feels as if they're family as well.  
 
What made you decide on your current major?  
When I was in elementary, English sparked my imagination. From that point, I decided I wanted to pursue a career in English. The only problem at the time was that I had no idea what I wanted to be. My father, who was an elementary teacher, would usually be swamped with work and would need help grading most of the time. As I graded with him, I saw that being a teacher seemed fun. However, I was still unsure if I really wanted to pursue a career in education. When I went into my 10th grade English class, that is when Ms. Barrera, my teacher, lit a flame within me. In her class, she helped me realize that I was great at writing essays and that I could even become a writer at some point. But little did she know that I had wanted to become like her. I wanted to be the flame that encouraged and inspired others. So, from that point on, I decided to become an English teacher. 
What do you hope to achieve beyond completion of your major?
After I complete my major, I want to become a teacher. I hope to go for my master's and hopefully become a school librarian once I have already spent a few years teaching. I want to help students fall in love with literature and far-off fantasies that can only be achieved through reading.   
What do you like most about UTRGV?
I like the professors most at UTRGV as well as the campus in general. I have visited campuses in DC, Boston and other states and have even sat in a few classes, but none of those hold a flame to how classes are structured at UTRGV. The classes are very fun and exciting, which is all thanks to the professors teaching them. All the professors I have met at UTRGV genuinely care about their students. Because of this, I don't have to needlessly stress over my professors not being understanding.    
 
What does being a Vaquero mean to you? 
Being a Vaquero means to be a friendly face to those who are a bit uneasy and who are restless. One must be the hand that reaches out to others to be of assistance to the rest. This instills pride within me as I know that we are one of the friendliest communities and universities out there.  
 
What opportunities has UTRGV helped you find throughout your community?  
Through working with unique individuals and participating in events, I realized that I want to be a force that moves hands. I want to help instill courage and passion in my fellow students. 
What advice do you have for fellow students pursuing their degrees? 
Some advice I can offer to fellow students would be to get up and move around! It's easy to get stuck in a slump and it can be hard to find motivation to continue. In order to combat this, it's important to be more active and move around. A simple walk outside and basking in the richness of nature will be sure to give you a clearer vision of what to do. Once you clear your head, get up and go do some activities!