Sub Menu Toggle
Alekxa Ariadna Guevara Rivera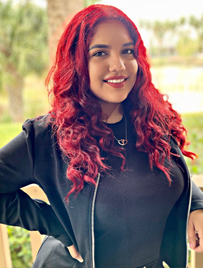 Name: Alekxa Ariadna Guevara Rivera
Age: 21
Major: Bachelor of Science in Biomedical Sciences
College: College of Health Professions
Hometown: Ciudad Victoria Tamaulipas, México
High School: James Nikki Rowe High School, McAllen, TX 
Why UTRGV?
As an immigrant, during my last years of high school, the idea of continuing my education was something that seemed impossible, mainly because I knew that my family and I wouldn't be able to afford it and the idea of giving up on my dream made me super sad. Nonetheless, I decided to apply to different universities just hoping for the best. I remember getting my acceptance letters and being happy of getting accepted into different institutions, but I didn't know how I was going to be able to afford it and that was concerning. But one day I got a big envelope in the mail from the Financial Aid Department at UTRGV in which they were congratulating me for being eligible for some grants and telling me that my classes were covered for the school year. The happiness I felt and how much I cried out of happiness is something that I'll never forget, and so, whenever I get asked, "Why UTRGV?" The answer is very clear. UTRGV gave me the opportunity to continue my education by helping me financially. UTRGV made my dream possible.
What made you decide on your current major?
Ever since I was a little girl, I knew that I wanted to be in the medical field. I remember I would always tell my mom that one day I would become a doctor and that I was going to help ALL the people in the world to be healthy and feel good. 
What do you hope to achieve beyond completion of your major?
Once I graduate, I want to get a certification through the UTRGV Continuing Education Program to become a medical assistant. Also, I want to apply to the UTRGV School of Medicine to further my education. My goal in life is to make a positive impact and being able to provide my community with the medical assistance that they need by becoming a doctor. 
What do you like most about UTRGV?
What I love the most about UTRGV is the sense of welcoming and belonging. The people, its buildings, EVERYTHING. I feel like UTRGV does a great job by making the university feel like home, all the way from its amazing faculty and staff to all its different buildings. It makes it easier for us students to enjoy our time here. Personally, I love spending time at campus, it makes it easier for me to have everything accessible in one place and focus on my classes by having access to computer labs, printers around campus, restaurants, coffee shops, study rooms, entertainment, etc. At this point, I truly feel like UTRGV is my second home, and sometimes I do spend more time on campus than in my own house.
What does being a Vaquero mean to you?
Being a Vaquero to me is taking pride in who you are and where you come from. Be courageous, take opportunities, and never give up. Celebrate every single achievement and always strive for success. Being a Vaquero has taught me that I can accomplish anything and everything I set my mind to, and that all the hard work is worth it.
What opportunities has UTRGV helped you find throughout your community?
UTRGV has allowed me to find a lot of amazing opportunities and meet great people. I've been able to find volunteering opportunities, attend trainings, workshops, and conferences that have been helpful in my professional and personal growth. I have had the opportunity to find mentors, advisors, professionals, and therapists that have been very helpful with my academic development and both my physical and mental health. Also, UTRGV has given me the opportunity to work on campus, making it easier for me to focus and stay on top of my classes while giving back to my community by helping other vaqueros have a wonderful experience at campus.
What advice do you have for fellow students pursuing their degrees?
Some advice that I would give to fellow students is to never give up and believe in themselves. I know how difficult it may seem sometimes but at the end, all the effort, struggle, stress, sleepless night, etc., would be worth it. This is an investment and what better than investing in yourself. Also, UTRGV does a great job at providing new opportunities to all their students, take advantage of those. Get involved, meet people, have FUN! But most importantly, feel proud of yourself and what you are accomplishing.