Sub Menu Toggle
Ariadna Jose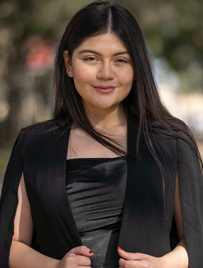 Name: Ariadna Jose Gonzalez
Age: 21
Major: BBA in Finance
Class: Senior
College: Robert C. Vackar College of Business & Entrepreneurship
Hometown: Zapopan, Jal.
High School: Preparatory #7. Zapopan, Jal. 
Why UTRGV?
I chose to attend UTRGV because I wanted to have a better education and a better future. As a foreign student, UTRGV offered me the opportunity to improve my skills, leverage my opportunities, and discover a completely new world.

What made you decide on your current major?
I always knew I wanted to major in a business-related career, and I love dealing and working with numbers. I was looking at my options and when I found Finance, it was love at first sight. It fascinates me to understand the markets, the economy, corporate finance, and what-if scenarios. Finance is looking for the best outcome using your tools/knowledge while managing uncertainty and risk. I just fall in love with numbers every day.
What do you hope to achieve beyond completion of your major?
I have a full-time offer for a Finance Rotational Development program in Silicon Valley after my graduation date, so my short-term goal is to learn and gain experience in all the positions I will work in and decide which one is the path I would like to take. My second goal is to enroll in the data analytics master's degree next year here at UTRGV, I want to come back with a broader vision after working for a few months. Finally, my first long-term goal it is to be a director and VP of a finance department for a company in the technology, fashion, or financial industries. My second long-term goal is to become a mentor and if possible, a sponsor to younger generations.
What do you like most about UTRGV?
What I like the most about UTRGV is the opportunities it provides to students, for example you can find in-campus internships, tutor sections, resume workshops, on-campus employment, etc. The help UTRGV offers to Mexican students like low tuition and advisement are awesome. Also, the social events and the culture makes you feel at home and that you are not just part of the community, you are family! Lastly, the professors and staff are caring and excellent. They are not just teaching you; they are mentoring you. I feel so lucky to find the best mentor at UTRGV.
What does being a Vaquero mean to you?
Being a Vaquero is such an honor and represents more than words can describe. Being a Vaquero is a feeling; a state of being. It represents vibrant colors, happiness, family, belonging, love, energy, force, and hope.
What opportunities has UTRGV helped you find throughout your community?
UTRGV helped me to improve my leadership and communication skills through student organizations.  I am honored to have held the secretary position in Enactus and president in the Economics and Finance Society. My involvement allowed me to give back to the community by volunteering for Cansgiving 2021 and distributed 1,600 Thanksgiving dinners for families, work with a group of autistic adults to obtain internships for them, and collaborate with two organizations and construct a financial curriculum for high school and college students.
What advice do you have for fellow students pursuing their degrees?
Ask, ask, and ask again. Ask your professor for advice, ask your classmates for help, ask your boss for feedback, asking is equal to opportunities. I do not believe that anything will come your way for free, you must work hard everyday day to build the life you want and more importantly, you cannot go far if you go alone. You need a network, you need to reach out to people, you need to ask them for help, you need to throw yourself into the real world and make many mistakes early to learn.