Sub Menu Toggle
Georgina Guerra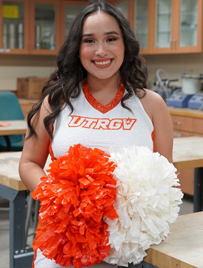 Name: Georgina Guerra
Age: 21
Major: Civil Engineering
College: College of Engineering and Computer Science
Hometown: Harlingen, Texas
High School: Harlingen High School South 
Why UTRGV?
I chose UTRGV because of the opportunity to be able to go to an affordable institution, with an outstanding civil engineering program while also being able to be close to my family and get the college experience. I also chose to attend UTRGV, because of the UTRGV Spirit Program, where I currently take part in as a UTRGV Dance Team Member.
What made you decide on your current major?
Ever since the beginning of my freshman year of high school, I knew I wanted to have a career in the STEM field. I wanted to major in something where I can highlight my passion in helping people, which is where I felt civil engineering was right for me. When choosing my major, I knew I made the right decision, because I was always interested in civilization, infrastructure, roadway design, water resources and structures in learning how they work. I chose Civil Engineering with a concentration in transportation because I feel that I can contribute to helping people get from point a to point b safely.
What do you hope to achieve beyond completion of your major?
My career goal is to become a professional engineer. To achieve this, I must first graduate with my B.S. in civil engineering, then become an engineer in training by passing the F.E (Fundamentals of Engineering) Exam to become an Engineer in Training, and lastly pass the P.E (Professional Engineering) Exam to officially become a P.E. My passion lies in solving conflicts using the advances of technology in Transportation Engineering and growing with these improvements. My goal is to become a Director in the Transportation field to make modes of transportation comfortable, accessible, affordable, environmentally friendly, and most importantly, safe. I also hope to achieve my dreams in continuing my passion for dancing after I graduate in the professional industry. I want to be known as someone who gave her upmost potential, never gave up, and would do what they love without hesitation because they knew it was their purpose. The sky is the limit, and anything is possible if you set your mind to it.
What do you like most about UTRGV?
I have always loved going to school and learning. I love being able to attend my classes with people who have the same goals and mindsets, which is to become a civil engineer. The professors I have had throughout my 3 and a half years here at UTRGV have made such a huge impact in my learning. UTRGV allows students to have good communication and relationships with our professors to be able to excel in the classroom to prepare for our next step in our career goals. What I love most about UTRGV is the
opportunities for campus involvement. I am currently Vice President for my Organization, ASCE (American Society for Civil Engineers) where we get to highlight our abilities through competitions, social events, and volunteering events here at UTRGV to promote campus involvement and the field of civil engineering. Another thing love about UTRGV is the Spirit Program. Being able to dance and promote campus spirit and involvement all throughout campus is something that makes UTRGV stand out compared to other universities.
What does being a Vaquero mean to you?
Being a Vaquero means showcasing school spirit with valley pride in the classroom and outside. It means to be a hardworking and resilient person that does not give up until they achieve their dreams while at the same time representing the university at the uppermost level of professionalism.
What opportunities has UTRGV helped you find throughout your community?
UTRGV has given me endless opportunities for growth as an individual. I have landed two internships through networking, long lasting friendships, relationships with faculty and other students that I will cherish forever. These Opportunities have shaped me into the person that I am today, but most importantly, UTRGV helped me decide my career goal in becoming a Transportation Engineer.
What advice do you have for fellow students pursuing their degrees?
My advice for everyone going for a degree in their desired field of interest is to take advantage of all the resources given to you. Network and communicate with students, faculty, and professionals about your interest and career goals. Another piece of advice I have is to join organizations, go to campus events, and take care of your mental health. When deciding about your future career, you have to think about what really makes you happy, what your main goals are, and you have to make the best decision for your health, yourself and your future! Prioritize yourself when making decisions overall and make long lasting memories that you will never forget!