Sub Menu Toggle
Juan Hinojosa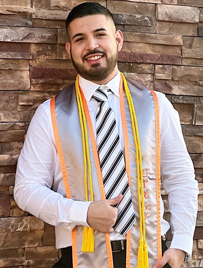 Name: Juan Felipe Hinojosa
Age: 23
Major: Accounting
College: College of Business
Hometown: Roma, Tx
High School: Roma High School, Roma, Tx 
Why UTRGV?
I decided to attend UTRGV because it was close to home and I enjoyed the environment and being part of the Vaquero community.

What made you decide on your current major?
I decided to pursue my major because most of my family is involved in the business area and I want to be able to assist them and follow their footsteps.
What do you hope to achieve beyond completion of your major?
I hope to reach success and gain graduate work experience and also pursue a master's degree in accounting.
What do you like most about UTRGV?
In my four years of being a student here, I can say that I enjoy every aspect of being in this institution because it has been what has shaped me into the person I am today.

What does being a Vaquero mean to you?
Being a Vaquero is a commitment that individuals should be proud of because the Vaquero community is a symbol of excellence, hard work and dedication.

What opportunities has UTRGV helped you find throughout your community?
UTRGV has been able to open opportunities by providing customer service to many of the organizations and getting involved with them.
What advice do you have for fellow students pursuing their degrees?
Make sure you are passionate of the degree you chose because you will be doing it for the rest of your life.

What's in your playlist right now?
Bad Bunny, Un Verano Sin Ti.