Sub Menu Toggle
Jorge Rivera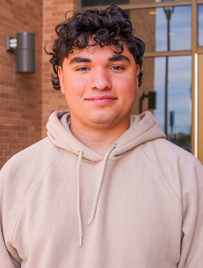 Name: Jorge Rivera 
Age: 20 
Major: Criminal Justice 
College: College of Liberal Arts 
Hometown: McAllen, Tx 
High School: McAllen High School 
Why UTRGV?
The reason why I chose UTRGV was that it was the only school that offered the best financial aid while offering the program that I want to pursue.  It was also the most convenient location since it is so close to friends and family. They offered the best support that I needed as a first-generation student. 
What made you decide on your current major?
I have always been interested in the law enforcement field ever since I was young. I have always wanted to make a difference in my community and continue to stay involved in public safety and overall well-being.  Due to personal experiences, it has made me want to be someone that I needed when I was going through those particular experiences.
What do you hope to achieve beyond completion of your major? To achieve the life that I never received as a child and prove to others that no matter what happens in your life, if you stay dedicated to your passions and goals, you can achieve it all.
What do you like most about UTRGV? 
The tight-knit community that is always so supportive and helps you through any struggles you may have. UTRGV has helped me facilitate and foster new and upcoming relationships that I will carry beyond college.  
 
What does being a Vaquero mean to you? 
To me, being a Vaquero means that no matter what your background is or where you came from, you can achieve it all. It shows that there are no boundaries when wanting to reach your goals. 
 
What opportunities has UTRGV helped you find throughout your community?  
UTRGV has helped me in numerous ways. Especially with professors and organizations that have shown me what it takes to achieve your goals. They offer so much mentorship and leadership that has instilled in me to become just that to others.
 
What advice do you have for fellow students pursuing their degrees? 
My biggest piece of advice is to not forget the bigger picture, stay focused, and always maintain your studies because in the end, this piece of paper opens numerous doors to what your future can entail.