Sub Menu Toggle
Angelique Trevino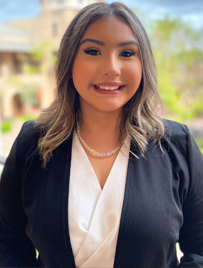 Name: Angelique Azelle Trevino
Age: 22
Major: Bachelor of Business Administration in Management
College: Robert C. Vackar College of Business and Entrepreneurship
Hometown: Brownsville, TX
High School: Veterans Memorial Early College High School 
Why UTRGV?
As a first-generation college student born and raised in Brownsville, TX, I knew that I wanted to stay here for college and make a difference in my community. I knew that UTRGV has all the resources for me to receive a quality education that is affordable and close to home. 
What made you decide on your current major?
From a young age I have always been a natural leader. It would bring me joy knowing that I was coordinating a team effectively and efficiently to get the job done while communicating and networking. In high school there were many pathways to choose from and I took a chance and chose to study business not knowing what to expect. My high school business teacher, the late Mr. Charles R. Flores, made a big impact on my education, gave me a love for business, and encouraged me to continue studying business in college.
What do you hope to achieve beyond completion of your major?
Starting with one of my short-term goals, I plan on applying to grad school and studying for a master's in Business Administration with a concentration in Marketing, or a Masters in Communication and Communication Training and Consulting Graduate Certificate. A long-term goal I have always had is to be fortunate enough to have my own scholarship to give students. As a scholarship recipient myself I know how it can change a student's life. I would love to have the opportunity one day to give back and make a difference in the future generation's lives.
What do you like most about UTRGV?
I love how supportive everyone is of the students at UTRGV. You can feel the supportive and energetic environment with anyone who is ready to help. UTRGV provides all the resources a student needs/ wants in life to succeed for their future.

What does being a Vaquero mean to you?
Being a Vaquero means being a part of a family and community who is always there to support you.

What opportunities has UTRGV helped you find throughout your community?
By guiding me to my first internship experience. Through UTRGV emails and career fairs, I found out about the Summer 2022 H-E-B Internship. I applied and was able to be a part of an amazing learning experience that I will never forget.
What advice do you have for fellow students pursuing their degrees?
To never give up or think you are alone and always do what you love and what will make you happy. Don't be scared to ask questions and make friends with people who have a similar major as you.