Sub Menu Toggle
Nallely Garza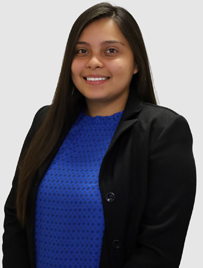 Name: Nallely Garza
Age: 21
Major: Physics with concentration in Educational Physics
College: College of Sciences
Hometown: Edinburg, TX
High School: Johnny G. Economedes High School 
Why UTRGV?
I chose UTRGV because it is an affordable university that offers great opportunities and degree options to choose from. The variability of these options that will set you up to have success in the career you choose.

What made you decide on your current major?
I knew that I always liked math and science in my lower-level schooling. I especially loved physics because there are so many interesting and challenging topics that caught my attention.
What do you hope to achieve beyond completion of your major?
I would love to have a career in physics where I get to apply my knowledge. I would then like to settle down in a classroom as a teacher to share my passion for physics and experiences in physics. I would also like to change the common perspective that physics is an impossible and difficult subject to explore. 
What do you like most about UTRGV?
I like the feel of community of peers and professors that have helped me grow as a professional.

What does being a Vaquero mean to you?
Being a Vaquero means being a part of a community where you take pride in where you come from and work hard to get to where you are headed. Student, faculty, and staff come from different cultures and backgrounds to work together and help each other grow.

What opportunities has UTRGV helped you find throughout your community?
Many professors have inspired me and helped me grow in many aspects of my life. Leadership roles in student organizations have helped me find more resources to help my fellow peers. The UTeach Program has helped me understand my passion for teaching others and how teaching is a powerful tool to use in any profession. Research opportunities have helped me understand what I am more interested in physics and education.
What advice do you have for fellow students pursuing their degrees?
I advise students to explore their passions and connect them in the field of their choosing. Many opportunities and resources are there to help guide us and help us achieve our goals. Clubs and organizations are a great way to connect with like minded peers that have similar goals and aspirations. Take charge of your learning and make the most of your experiences!