Sub Menu Toggle
Angelina Salinas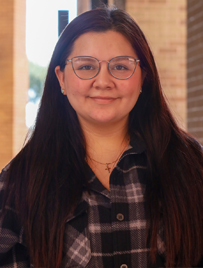 Name: Angelina Salinas
Major: Bachelor of Science in Chemistry
College: College of Sciences
Hometown: San Antonio, Texas
High School: South San Antonio High School 
Why UTRGV?
I chose UTRGV because it had plenty of financial resources for first-generation, Hispanic students. The opportunity to live on campus provided a chance to experience a different environment and gain personal growth through my independence. Throughout my time at UTRGV, I witnessed firsthand what it means to not only to live on my own, but to maintain a healthy school/work balance.

What made you decide on your current major?
I decided to study chemistry because of how it challenges my critical thinking and problem-solving skills. Chemistry has broadened my perspective on the natural world amongst other things. I value how the critical thinking and problem-solving skills I've learned can be applied to other aspects of my life.
What do you hope to achieve beyond the completion of your major?
I want to travel and have experiences outside of my everyday routine. It can be easy to stay in your comfort zone and not try new things, but I want to expand/branch out. 
What do you like most about UTRGV?
I am currently enrolled in Chemistry Problems which is a course that allows undergraduate students to work on research with graduate students and a chemistry professor. I enjoy having the freedom to figure things out and make mistakes on my own while having a mentor to guide me if I need it. The struggle makes learning so much more rewarding.

What does being a Vaquero mean to you?
Being a Vaquero means hard work, dedication, and perseverance.

What opportunities has UTRGV helped you find throughout your community?
Working on campus has exposed me to all the wonderful resources UTRGV has to offer. My supervisors and coworkers are extremely supportive and encouraging. My work-study position on campus has provided me with opportunities to grow outside of the classroom.
What advice do you have for fellow students pursuing their degrees?
Remember why you applied, and do not let procrastination get the best of you. UTRGV is what you make it, and you will get out what you put in.