Sub Menu Toggle
Isai Martinez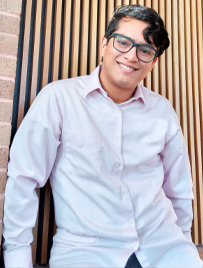 Name: Isai Martinez
Age: 23
Major: Bachelor's in Music Performance
College: College of Fine Arts
High School: Johnny G. Economedes High School, Edinburg, TX 
Why UTRGV?
I chose UTRGV because I wanted to pursue my double bass studies with Dr. Amorim, the professor of double bass at UTRGV. UTRGV is also affordable, close to home and I get to learn a little bit more about the culture of the RGV while the professors make class subject relatable.

What made you decide on your current major?
I decided on my current major because I loved exploring the depth of music and how to make it relatable to any audience. Every time I take a break from playing, I come back to my bass feeling more at home than I was before.
What do you hope to achieve beyond completion of your major?
I hope to achieve a greater understanding of music and my instrument as I continue with my studies during graduate school. I hope that I can learn how to guide others, as well as myself, to understand and relate to music, whether they're a musician or a non-musician. 
What do you like most about UTRGV?
What I like most about UTRGV is the nurturing nature of the professors in the music department and their determination to continue teaching their passion in both their performances and lectures. I also really like the number of trees giving shade during the day and the amount of lighting in the night that gives the campus the feeling of a sanctuary.

What does being a Vaquero mean to you?
To me, being a Vaquero means to represent the culture of the RGV and finding its value in the world. It means that there is something to be said about what's happening here, and it brings change to the world at large.
What opportunities has UTRGV helped you find throughout your community?
UTRGV has helped me give back to my community through teaching younger generations, giving ensemble performances with the UTRGV Double Bass Quartet at middle and high schools and facilitating camps and workshops with guest artists (or our own faculty and students). Studying here has given me inspiration to continue my exploration of the inner workings and social/political importance of music. So many professors and students have an excitement and drive in their attitude that is very encouraging, and very contagious.
What advice do you have for fellow students pursuing their degrees?
I would advise fellow students to explore the campus' facilities and services to better understand all the opportunities available. Many aspects of your student life can be assisted through the library (and its vast resources), student academic services building, the learning center, counseling, the food pantry and especially your professors and fellow students.
What's in your playlist right now?
"La Sonnambula" by Bellini
"Farewell Life" by Arn Andersson
"Libertad" by Adam Ben Ezra & Yasmin Levy
Pieter Wispelwey's performance of Bach's suite no. 4 in E-flat Major BWV 1010
"I Will" by Radiohead