Sub Menu Toggle
Alexandra Martinez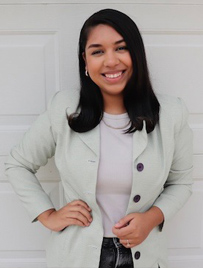 Name: Alexandra Martinez  
Age: 23
Major: Master of Science in Dietetics  
College: College of Health Professions  
Hometown: Ciudad Victoria, Tamaulipas, Mexico 
High School:  James Nikki Rowe High School, McAllen 
Why UTRGV?
UTRGV has always provided me with financial opportunities to complete my education. I graduated with my bachelors with zero debt due to the many grants and scholarships I received from UTRGV. Now that I am doing my masters, UTRGV keeps providing me with financial support to continue my education. I know I would not have been able to get this far in my education if it was not for UTRGV's continuous commitment to eliminating financial barriers for its students.
What made you decide on your current major?  
My passions include nutrition, health, wellness, advocacy, education and serving my community.  Additionally, some public health issues that are very prevalent in our communities including obesity, diabetes, cardiovascular disease and food insecurity. Connecting my passions to the needs of our communities is what led me to choose the dietetics major at UTRGV and pursue the professional career of a registered dietitian nutritionist. Dietetics is the career of my dreams because this is where my main goals in life will be accomplished, such as making a positive impact on the health of every individual I reach by acting on public health issues that are present in my community and by improving the quality of life through nutrition. 
What do you hope to achieve beyond completion of your major? 
In the future, I see myself advocating for evidence-based nutrition education and by creating nutrition programs targeted to low-income families who are experiencing food insecurity and individuals who have been diagnosed with chronic disease. As a future RDN, I hope to help reduce the prevalence of public health issues in our communities and one day be able to open my very own private practice. 
What do you like most about UTRGV? 
What I love about UTRGV are the professors and the family they create among the whole UTRGV staff and students. UTRGV gave me the most dedicated professors and mentors. I have a very high respect and admiration for them as they have tremendously inspired my professional career in the dietetics field.
 
What does being a Vaquero mean to you?
Being a vaquero means that I get to receive high quality education that is affordable and full of professional experiences. I also have been able to build strong relationships at UTRGV with my classmates, professors and mentors. It also means always having someone at UTRGV that is willing to help you reach your academic and professional goals. That is what makes me very happy and proud of being a Vaquero.
 
What opportunities has UTRGV helped you find throughout your community?  
I have been able to find countless of volunteering opportunities at UTRGV with the Dietetics program. There have also been internship experiences I've had, being a UTRGV student opens so many professional doors around my community.
What advice do you have for fellow students pursuing their degrees? 
Anything we want to accomplish in life requires commitment and consistency. Especially in our professional goals and career. Do not stop! Remember that any little step and improvement always counts.