Soraya Cepeda- Robert C. Vackar College of Business and Entrepreneurship
Dear Friends,
My parents worked hard and encouraged my sisters and me to achieve our dreams, but they did not have the money to send me to college. That's where donors stepped in. My parents gave me encouragement and generous donors gave me options. By funding scholarships, study abroad, conferences and internship programs that give me hands-on experiences, donors are giving me a path to a fulfilling career and life. I am proud and thankful that donors like you believe in me.
As a marketing student in the Robert C. Vackar College of Business and Entrepreneurship at The University of Texas Rio Grande Valley, I love learning about global markets. Thinking about how different cultures respond to marketing campaigns inspires me to imagine my future. I am currently experiencing this first-hand, thanks to a study abroad opportunity in Mexico that is challenging me to put knowledge gained in the classroom into practice.
Every day, people in the Robert C. Vackar College of Business and Entrepreneurship are investing in students--aspiring accountants, financial planners, business owners and managers. These students want to build lives, careers and futures that strengthen their families and communities.
When you support UTRGV's programs, from scholarships to student success programs, you are preparing students like me to take our place in the global workforce. The impact will be felt in the Rio Grande Valley and beyond. With your support and my passion to make a difference, we can transform corporations, non-profit organizations and family businesses and the way they do business.
Donors changed the course for future generations of my family. I am looking forward to graduation and to demonstrating the value of a UTRGV education. It has made my life better than I could have ever imagined. Will you contribute and show others that when we work together, we can transform our future?
The gift you make today will have an immediate impact on the lives of students. You can also visit us at give.utrgv.edu/donatenow to make your contribution. Every gift makes a difference.
Thank you,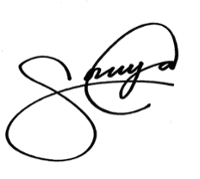 Soraya Cepeda
UTRGV Class of 2018